Afternoon of Reflection for Teachers and School Leaders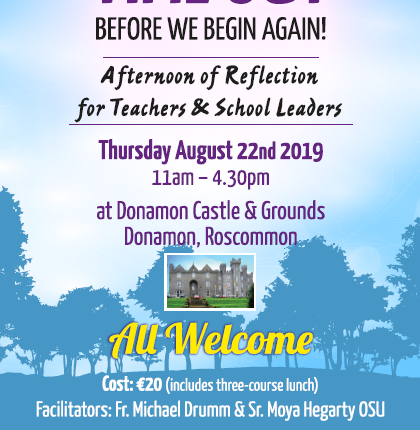 Cost:
€20.00  (includes three-course lunch)
Facilitators:
Fr. Michael Drumm & Sr. Moya Hegarty OSU
Schedule:
11 am:
Welcome / Tea & Coffee
11.20 am:
A short introduction to Donamon Castle
and a brief history of the Society of the Divine  Word in Ireland
presented by Fr. George Agger    SVD
11.40 am:
Opening Prayer Ritual
12 noon:
Input from Fr. Michael Drumm
followed by a time of sharing and quiet reflection
1 pm:
Three-course lunch and a walk around the grounds of
Donamon Castle (for those who are interested)
02.15 pm
Input from Sr. Moya Hegarty OSU
followed by a time of sharing and quiet reflection
03.15 pm
Shared preparation for Eucharist led by Sr. Moya and Fr. Michael
03.40 pm
Eucharist
4.20 pm
Tea / Coffee & Departure
Number of places:
Thirty
Who does this aim to serve?
This event has been organised in response to requests from teachers and school leaders (Primary and Post-Primary) who draw upon their own spiritualities in the course of teaching / exercising leadership.
It seeks to honour four intentions:
(i) to invoke God's blessing on the year ahead
(ii) to support a time of reflection
(iii) to provide an experience of fellowship for teachers and school leaders who find
that teaching / leading a school community is a key dimension of their  vocation
(iv) to offer spiritual nourishment  from the riches of Christianity.
Open to:
All  Teachers and School Leaders (Primary & Post-Primary for whom
faith and being an educator / facilitator of learning-teaching are integrally linked
in their own person.
Further Enquiries / Booking:      
To book a place, register your interest, request a reminder nearer the time
please contact Justin Harkin @ 087 6171526 / justin@elphindiocese.ie
Location
Get directions
By using the Ceist website you agree to our use of cookies as described in our cookie policy. Learn More I agree