Ash Wednesday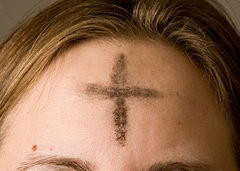 The season of Lent is a time of preparation for Easter. It is an opportunity for us to grow in our awareness of God's presence in our lives. Lent begins on Ash Wednesday.
Ash Wednesday is not a holy day of obligation, and yet it is one of the days during the liturgical year on which very large numbers of people participate in the ceremony of the distribution of ashes.
Ashes were an ancient symbol of repentance; they remind us of our mortality. On this day we recognize our human frailty. When we are marked with ashes we acknowledge our need to change ourselves at a deeper level and our willingness to enter into Lent as a time during which we will strive towards an inner conversion of heart.
"Remember, man, that you are dust and to dust you will return"
[Genesis 3:19]
"Turn away from sin and be faithful to the gospel."
[Mark 1:15]
Responsorial Psalm for Ash Wednesday
Have mercy on me God in your kindness
In your compassion blot out my offence
O wash me more and more from my guilt
And cleanse me from my sin
 
A pure heart create for me, O God
Put a steadfast spirit within me
Do not cast me away from your presence
Nor deprieve me of your holy spirit
 
My offences truly I know them
My sin is always before me
Against you, you alone, have I sinned:
What is evil in your sight I have done.
 
Give me again the joy of your help;
With a spirit of fervour sustain me,
O Lord open my lips
And my mouth shall declare your praise
(Ps. 50:3-6.12-14.17)
Ash Wednesday Resources
This lovely reflection for Ash Wednesday shared by Bohernabreena Parish on Facebook.
Ash Wednesday PowerPoint – Preparing for Lent
Lenten Resources