Lenten Resources
CEIST Resource
CEIST Lenten Resources 2020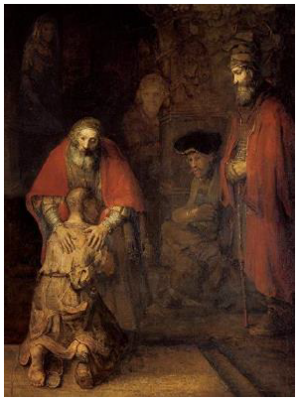 A Guide to Lent and Easter for Young People
Way to the Cross – PowerPoint Presentation for Good Friday
The Archdiocese of Dublin Education Secretariat
The Archdiocese of Dublin Education Secretariat has combined a comprehensive list of Lenten Resources which would be very useful for RE class and school preparation for Lent. Click the link below to access the Archdiocese of Dublin Education Secretariat website.
Arts & Faith: Lent
Enter into a visual prayer experience this Lent with Arts & Faith: Lent. Each week we'll provide a video commentary about a work of art inspired by the Sunday Scriptures. Use these videos to take a new look at this season of spiritual renewal through the lens of sacred art.
Transfiguration Activities & Worksheets
At a turning point in the Gospels, Jesus was transfigured along with Moses and Elijah. The disciples Peter, James, and John witnessed this amazing event and recognized, maybe for the first time, who Jesus really was. Check out this list of Transfiguration activities and worksheets that you can use to teach about this important New Testament story to the kids in your classes.
Sounds of the Cross – Igniter Media
These two beautiful videos from Igniter Media may prove useful with students when exploring the Lenten Journey:
Sounds of the Cross (Part 1) Good Friday
Sounds of the Cross (Part 2) The Resurrection
Scripture in Lent
Hearing, Happening, Hoping is a resource based on the Scripture readings for each Sunday during Lent. It aims to help us to listen deeply to the Sunday Gospel and reflect on where we see this Gospel happening in our lives and in the world around us.
Scripture in Lent (Scripture readings for the 6 Sundays in Lent)
40 Acts Generosity Challenge for Lent
40acts is the generosity challenge for Lent, created by UK Christian charity, Stewardship. For eight years, 40acts has asked a question: what if Lent could be about more than just giving stuff up? What if it could be a time of radical generosity as well as spiritual discipline?
CAFOD's online Lent calendar
Click here to access
Trócaire's Lent Education Resources
There is so much to inspire in Trócaire's Lent 2016 Education Resources, they can be viewed by clicking here.
The Emmaus Lent and Holy Week Online Videos
These beautiful 3-5 minute image and text video reflections are inspired by the Gospels for Lent and Holy Week.  Emmaus also have a very special video prayer experience of the Stations of the Cross.
Full Emmaus online video library of over 130 prayer and meditation videos for adults, children and youth.
Brian Flanagan – Youtube Video
This YouTube Clip is the perfect introduction to Lent.