This book was kindly shared with us by Professor Graham Rossiter.
The book is intended to inform discourse about the purposes and practices of Catholic school Religious Education.  Hopefully, you may consider using it to resource the discussion among Catholic school authorities and religion teachers.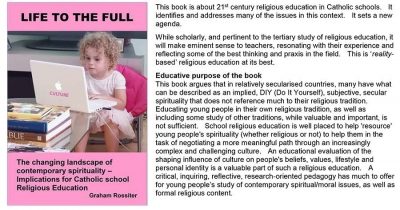 Publication package
The book has been published free for distribution as a pdf file, with some printed copies available in Australia.  It is being offered as part of a resource package located in the interlinked websites noted below.
Download page for the free pdf file of the book Life to the full.
https://e-learn.acu.edu.au/grrossiter/book/index.html
Content (videos of lectures and associated presentation materials) from the Study Day on School Religious Education during which the book was launched.  This includes presentations from Dr Philip Hughes, Prof Graham Rossiter and Dr Gerard Rummery on the changing landscape of contemporary spirituality — implications for school religious education.
https://e-learn.acu.edu.au/grrossiter/book/StudyDay.html
Related Resource /Study Materials.  Audiovisual and other study materials that relate to specific chapters in the book Life to the full – especially chapters 5-7 on studying the iconography of 'consumerist religion' contrasted with the iconography of medieval  Christian spirituality.
https ://e-learn.acu.edu.au/grrossiter/636/avmaterial.html
Comments about the book