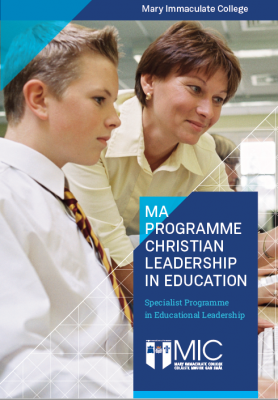 Mary Immaculate College Limerick are running Master of the Arts program in Christian Leadership in Education. The Masters of Arts in Christian Leadership in Education is an innovative postgraduate programme leading to a professional qualification. The degree is under the auspices of Mary Immaculate College and is awarded by the University of Limerick.
Programme Overview
The programme, which is offered over two academic years in part-time mode, will explore key issues of educational leadership, policy and management, within the context of faithbased school environments.
It will commence in Mary Immaculate College on July 1st and run for the first two weeks of July. Then, there will be a session one week-end per month for the remainder of the academic year, starting in September and running through to May . The programme will conclude with another two week summer school during the first two weeks of July.