Palm Sunday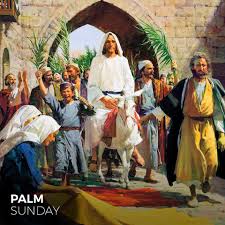 Palm Sunday is a celebration of Jesus Christs triumphal entry to Jerusalem, days before he was crucified. It falls the first Sunday before Easter and marks the beginning of Holy Week. It is also the last Sunday of Lent.
Palm Sunday gets its name in remembrance of when Jesus arrived to Jerusalem the people threw down palm branches and cloths on the ground to make a pathway for him. This was custom at the time to celebrate the arrival of a King. Jesus rode into Jerusalem on a donkey to symbolise the humble arrival of someone in peace, as opposed to arriving on a horse in war.
A week later, Christ would rise from the dead on the first Easter.
Below are some resources which you may find helpful to celebrate Palm Sunday.
ACE Lenten Reflection

ACE Lenten Reflections: Palm Sunday of the Lord's Passion

Written by Katie Moran
Associate Program Director, Notre Dame ACE Academies
Video Resources

Palm Sunday – taken from CaholicOnline.org website
What is Palm Sunday – taken from GotQuestions.org website
God's Story Palm Sunday – taken from Crossroads Kids Club channel