St Brigid's Day 1st February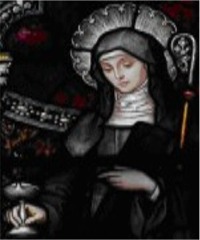 Today, 1 February, is the Feast of Saint Brigid, Abbess and Secondary Patron of Ireland. Saint Brigid is renowned for her hospitality, alms giving and care of the sick.
"From the first day I set my mind on God I have never taken it away from God and I never will"
St. Brigid was born in approximately 450 A.D. Her story has been heavily embellished by the oral tradition and the passage of time, but the person of Brigid shines through the mists of time as an extraordinary woman who connects us today with our spiritual roots.
It is thought that she was the daughter of Dubthach, a chieftain of Leinster, and Broicech, who was possibly a slave and a Christian. She is said to have been inspired by the teaching of St. Patrick and to have been a young woman of extraordinary generosity and charity.
Brigid became famous for her holiness and was determined to enter religious life. In spite of her father's opposition she eventually took her vows before St. Mel of Armagh who also conferred her with abbatial powers which gave her the administrative powers of a bishop. The most famous of her monastic foundations was in Kildare. Here she established a double monastery which became a centre of prayer and learning renowned throughout Christian Europe.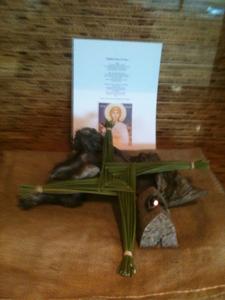 The name Brigid traditionally connects her with the Celtic pagan goddess. However, while folklore may be behind some of the traditions associated with her, Brigid, the Abbess of Kildare, did exist and she provides a link between the ancient customs of Celtic spirituality and their absorption into the Christian tradition. Her feast day is celebrated on February 1, Imbolc, the first day of spring.
Perhaps her connectedness with the renewal of the earth, the signs of new growth, and the eternal cycle of new life may be a sign of hope, not only for our growing awareness of the need to care for the earth, but also for the renewal of our Christian faith and culture. For our consumer society Brigid's example provides a dramatic alternative! Her constant awareness of God in her life and in those she encountered, her compassion and her concern for the poor are all shining examples of living Christianity.
The life of. Brigid is: "a portrait of a powerful leader, a healer, a spiritual guide, a prophetess for our time". (Sr. Mary Minehan CSB)
St . Brigid is a model and inspiration for all of us, working, in the words of our CEIST Charter, towards: "a compassionate and just society inspired by the life and teachings of Jesus Christ".
St. Brigid's Day Prayers
The CEIST Faith Leadership and Governance Team have compiled the following resource to celebrate the Feast of St. Brigid, click on link below to view.
| | |
| --- | --- |
| Feast Day of St. Brigid |           click here to view |
| Brigidine Pray for Peace |           click here to view |
Video Resources
How to make a St. Brigid's Cross
How to make a St. Bridget's Cross from KandLe Team.
Brigid's Story
Brigid's Story from KandLe Team.