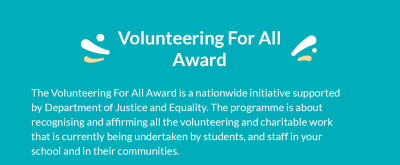 Localise Youth Volunteering is a national youth and community development organisation with over 47 years' experience in youth volunteerism, and has been working in partnership with schools since 2007. Localise works in partnership with secondary schools across the country with the Volunteering For All Award programme as it directly engages young people from a wide variety of backgrounds and nationalities in celebrating the diversity and voluntary work students and staff do to make a positive contribution to the places in which they live.
In the 2018-2019 academic year, the Volunteering For All Award was achieved by 39 schools and community groups across the country. The programme is supported by the Department of Justice and Equality through the Office for the Promotion of Migrant Integration.
This programme is free of charge and can be linked to the Junior Cycle Profile of Achievement, Wellbeing, SPHE, CSPE, RE, Politics and Society, LCA and LCVP curriculums.
The Volunteering For All Award is presented to schools nationally who demonstrate a commitment to volunteering and celebrating diversity.
Below are the steps of how to get involved: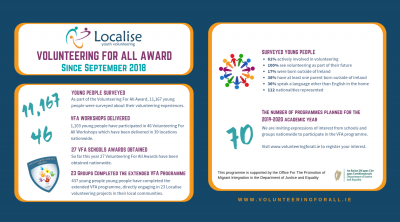 Step 1 – Registering Interest: In order for more schools to participate, they simply need to register their interest online at www.volunteeringforall.ie.
Step 2 – The Volunteering For All Workshop: A two hour workshop facilitated by a professional member of Localise staff, a maximum of 30 students and a member of school staff will lay the foundation of celebrating the diversity and voluntary work in your school through the creation of a school volunteer charter. We have found that like-minded groups (student council, chaplaincy, Ember Leadership, Model UN, social justice groups, etc.) are an ideal fit for the workshop, but the programme is open to all groups and year groups.
Step 3 – The Volunteering For All Survey: Students will survey and record volunteering already taking place in your school using a pre-made online survey. The student survey takes an average 5 minutes to complete. Last academic year, 11,167 students completed the survey. 
Step 4 – Receiving the Volunteering For All Award: Once students successfully complete these challenges (with the support and guidance from Localise staff) your school will receive the Volunteering For All Award. Localise will return to your school with a short celebratory presentation highlighting key findings from your school. The award presentation can be delivered to the entire school, or to whomever you feel most appropriate. This presentation is no more than 30 minutes in length.
This workshop is in high demand and has limited availability. If you feel that this programme would be a good way to acknowledge and affirm the volunteering taking place in your school, please click below for more details.
Localise VFA – Information Leaflet