Leaders in CEIST Schools
As you are aware CEIST has run  a Middle Leadership Programme for a number of years. Over the last two years this was done online due to pandemic restrictions. During the last few months the CEIST Team has reviewed, developed and rebranded the programme as the "Leaders in CEIST Schools" Programme. This revised programme retains many of the best features of our previous programmes while updating and improving on other areas. It will be run on a hybrid basis with one Zoom session on 25th January and two in person sessions in the Limerick area, Saturday 11th February 2023 at the Castle Oaks Hotel, Castleconnell and Saturday 25th February 2023 at the Limerick Education Centre. To ensure maximum engagement of participants we are limiting enrolment to forty.  Participants must be available to attend all three sessions.
Registration for the Spring 2023 session will open at 4pm on Monday next, 12th December and will close automatically when the limit is reached.
Register your interest in 'Leaders in CEIST Schools – LCS Spring 2023 Session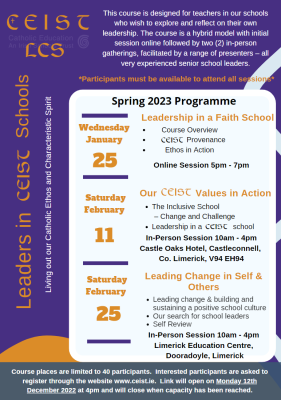 Location
By using the Ceist website you agree to our use of cookies as described in our cookie policy. Learn More I agree