Frame of Mind – Short Film Competition
Well Done & Congratulations to Keira Dockrell Brady & Amy Roche, 1st year students who were shortlisted in the Walk In My Shoes "Frame of Mind" short film competition 2020. Their short film dealt with wellbeing and ways to have a healthy mind. We are so so so proud of the girls as they were up against senior student competition and were shortlisted out of all the entries submitted. Such an amazing achievement.
Keep an eye out on these budding film makers – Oscars here we come!
Video link
Maynooth University – Junior Certificate Business Awards 2020
We were delighted to attend an awards ceremony in Maynooth University yesterday evening in celebration and recognition of our students and teachers in the 2019 Junior Cycle Business Studies Awards. 15 students were congratulated having achieved Excellence in their Business Studies exam. Maynooth University is becoming increasingly popular as a university of choice for many students from St Joseph's! Congratulations to all on their achievements – we are very proud of you all.
Educators from the European Commission & SSE Inspectorate Visit School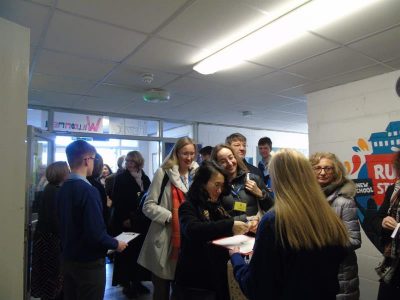 We were delighted to welcome international educationalists to school on Thursday to share our experience of collaboration. We were so proud of our student voice forum who took the lead with our visitors and showed them what St Joseph's is made of. Well done to Ms Kinsella for organising the group and to the St Joseph's Student Support Team who presented so well to the visiting group too. There was huge engagement & interest from all present making for a very positive and encouraging visit
Past Pupil Role Model for Young Women Everywhere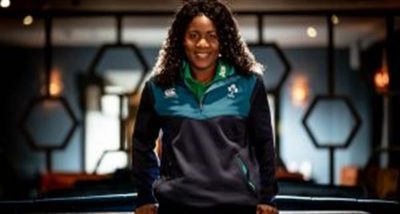 Linda Djougang, past pupil has been a rising star of the Irish women's rugby team. Louise Lawless writes about how Linda is "relishing trailblazing role as she aims for the top". We are so proud of Linda, her ambition and hard work is next to none. What a super role model for students across the country!
Read the full article here: Irish Times Article
An Garda Síochána TY Programme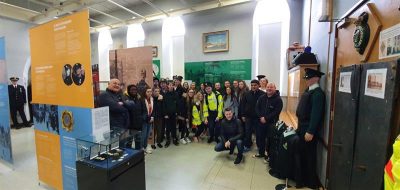 Always delighted to have TYs on the An Garda Síochána TY programme! Huge thanks to Breege in Balbriggan for facilitating this opportunity. Nicole had an action packed week visiting the Underwater Unit, CCJ, Garda HQ & Templemore! More TYs looking forward to taking part in the future.
Euroscola 2020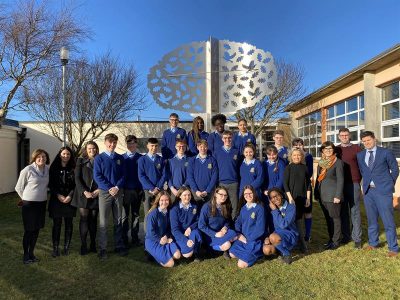 In a few weeks time, this group of TY and 5th Year students will travel to the European Parliament in Strasbourg to represent Ireland at Euroscola 2020. They will get the opportunity to explore, discuss and share their views with students from other European cities on the big issues facing the citizens of Europe, by taking on the role of MEPs for the day. This will be St Joseph's third time to represent Ireland at this event in recent years. Best of luck to all the students representing our school this year. We know you will all be fantastic. Well done and thanks to the organising teachers – never to be underestimated the planning and organising involved taking students out of the country.
Catholic Schools Week 2020
The theme for Catholic Schools Week this year was: "Living in Harmony with God's Creation". Huge thanks to Ms McGann & Ms Mackin for all their hard work in preparation for actively living, seeing and hearing our Catholic School Ethos this week and really giving it the space to come to the fore of our every day school life for the week dedicated to all Catholic Schools. Reflections were passed on to be read at the beginning of all Religion classes. A different member of our school community began each morning with a prayer or reflection over the intercom from our Principal Ms Hayden, Anne one of our canteen ladies our head boy & girl, staff members and younger students. Ms Mackin & Ms Murphy continued St Brigid cross making across the 1st year religion classes and the entrance to our Oratory space was decorated with the theme of Catholic Schools week as inspiration by the TY Mural team. It was a very special week in our school and we thank all who got involved.
Fairtrade Awareness Day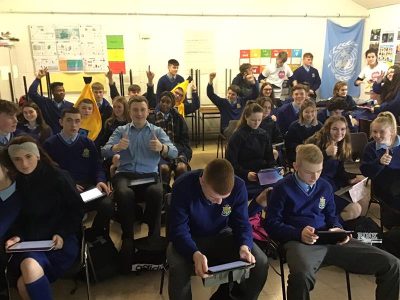 Fairtrade Awareness Day happened on Wednesday the 29th of January. Wonderful peer to peer teaching and learning opportunity. TYs and 1st Years coming together to promote and create awareness surrounding social justice issues. Huge thanks to Ms Kinsella & Ms Quinn for their planning and organising of this day. It is a hugely important but also much enjoyed day in our school calendar.
North Leinster Schools Cross Country
Super running on display at the North Leinster Schools Cross Country 2020. Waiting to hear about team qualifications. Congratulations to JD Kelly (2nd) and Daniel O'Brien (8th) that are through to Leinster Cross Country Finals. Well done to Mr Nolan & Ms Kinsella for organising the students participation in this event.
Cycle Against Suicide Student Leader Congress 2020
On Friday the 27th of January our TY students spent the day at the Cycle Against Suicide Student Leader Congress in Citywest. They heard from many inspirational speakers who have gone through very difficult times in their lives and were treated to performances from a number of music artists. The core message of the day was that #ItsOkNotToFeelOk and that #ItsAbsolutelyOkToAskForHelp.
A full and great day was had by staff and students. A huge thanks to Chasing Abbey, Alan Quinlan & United Vibe for meeting some of our TYs backstage & in the green room. Not to forget all the speakers who shared their personal stories on the day with such openness & bravery.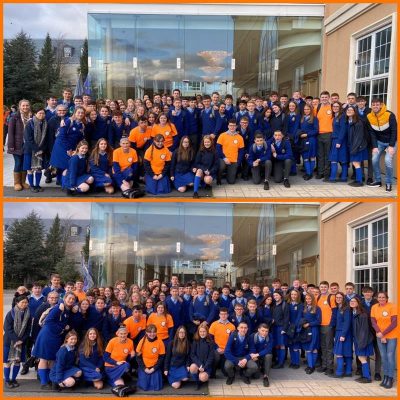 BTYS 2020 Achievements Formally Recognised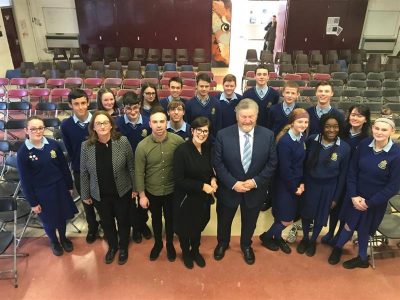 Senator Dr Reilly, Chairperson of the Board of Management held a special assembly on Tuesday to acknowledge and celebrate the achievements of the 9 Young Scientist Teams and Science Department Teachers in this years BT Young Scientist Competition. It was a wonderful afternoon where all participants received recognition for their passion, dedication and hard work.
Junk Couture 2020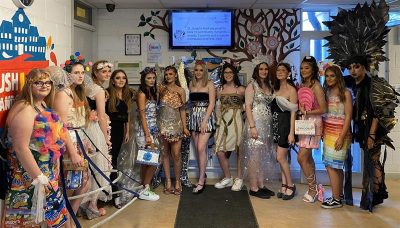 The buzz, colour and creativity around the corridors on Wednesday was next to none! The TY students were finishing and modelling their completed Junk Couture designs for the 2020 competition. This years entries definately took it to the next level. Congratulations and well done to the students and Ms Barrett for their decorative, dramatic, imaginative and stylish work this year. You all looked out of this world!
Irish Diplomat Visits St Joseph's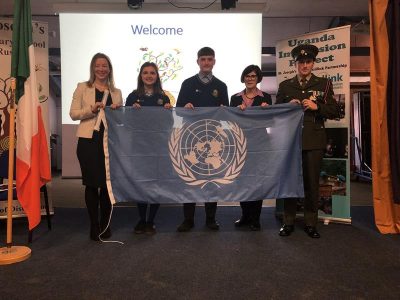 Irish diplomat Laoise Moore who is Ireland's Consul General in Boston made a trip to St Joseph's on Thursday as part of the Global Schools Programme. Consul General Laoise and Corporal Andrew McKinney met with and spoke to a range of students from our school community. The students study History, Politics & Society and some of them have been to Uganda as part of the Aidlink Ireland Immersion project, others have participated in Model UN and EYP while others are off to the European Parliament next month. The students were well informed and engaged in the talk and Consul General Laoise praised the quality of the questions the students had for her rating them as "some of the toughest and most insightful questions of her career". Well done to the organising teachers and participating students.