International Women's Day
Women in Sport Forum
Friday 8 March was International Women's Day and the PE Department held their first official 'Women in Sport' forum. This event took place from 10:10 – 11:30 upstairs in the gym suite, above the PE Hall.  Guest speakers included Molly Scott – International Athletics, Lauren Dwyer – International Soccer, Nuala Mohan – Carlow Senior Ladies Football Captain and Sarah Fahy – Fitclub Carlow. The forum included the guests talking about their careers as well as giving their thoughts and ideas regarding women in sport. Female students who play on sports teams in the College attended, and both they and the teachers found the talks both informative and inspiring.
Women in STEM
What a wonderful way to celebrate #IWD2019 for a group of our TY and Fifth Year female students in #UNUM Carlow in association with @JA_Irl highlighting the role women have and can play in the ever evolving world of #STEM #Careers #WomenInSTEM #opportunity.
Empowering Women Art Competition
Congratulations to Megan Hosey and Ally O'Brien who have their posters displayed in Carlow College. The girls both submitted entries to the Creative Ireland "Empowering Women Art Competition". Megan was awarded second place in the competition and received a €100 One 4 All Gift Voucher at a Ceremony in Carlow College on International Women's Day.  First Year student Ally O'Brien also had her entry on display.
Business Workshop
As part of International Women's Day, Bank of Ireland Carlow invited Ms. Donnelly and Fifth Year Business students to a workshop given by local entrepreneurs and business people. It was a very enjoyable and worthwhile experience.
New School Jacket
Following many requests from the Presentation College student body, the Student Council are proud to introduce our new school jacket.  Congratulations to the Student Council who raised and highlighted student concerns in relation to the old jacket. They liaised with school Management, Parents Council and the student body and led a successful campaign to help with the development of a new and improved jacket. As the saying goes "Well ye may wear!"
Lent
Ms Maher's Third Year Religion class enjoyed some pancakes with their favourite toppings, to celebrate Pancake Tuesday. On Ash Wednesday we had a lovely ceremony including the distribution of ashes in our school Oratory. There was a raffle to raise awareness of and money for Trocaire.
Under 15 Girls Soccer – Leinster Quarter Final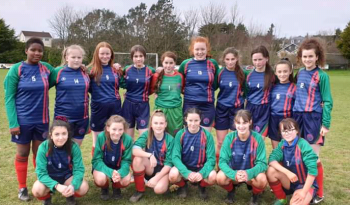 The under 15 girl's soccer team were recently defeated in the Leinster Quarter Final against Presentation, Wexford. The girls made the long journey down to the sunny South East on Tuesday 5 March. They started well with Orla Woods, Lauren Kenny and Aoife Kelly making great connections in midfield but found Wexford's defence hard to break down. Presentation Wexford went 1-0 up within the first ten minutes but the Carlow girls in defence particularly Sinéad Thompson and Sarah Nolan worked tirelessly against a very strong Wexford forward. The Carlow girls fought hard in the second half and had many shots by Orla Woods and Niamh Murphy but they just could not get it on target. This is the end of the season for the girls. Ms. Ryan would like to thank the team for their commitment and passion shown this year and we look forward to a great year next year. A special word of thanks also goes to teachers Ms. Kinsella and Ms. Flanagan who have helped out this year and also to TY students Padraig Thompson, Cormac McElligott and Patrick Rogers who assisted with the team.
Students Make Seed Balls
Ms. Owens and Ms. Brennan organised Eco Unesco Workshops for their classes last week. Laura-Kate Howell treated the students to hands on Biodiversity Workshops. There was great excitement as students enjoyed Magenta style learning as they collaborated, shared and participated. The highlight was the actual making of their seed balls, which they then were able to bring home. Thanks to Carlow County Council for sponsoring these very educational and enjoyable workshops. The students are looking forward to finding out what grows from their seed balls in the spring and summer.
Students Report On Their Visit To Dublin Castle and Dublinia
Ms. Owens recently brought her Second Year History and CSPE students on an educational trip to Dublin. The following is a compilation of reports written by Allanah, Ella, Shane, Mikee, Terry and Molly.
"First of all we went to Dublin Castle, where we learned that the castle had been burned down and rebuilt. We visited several rooms including the Connolly Room, the Printing Room and the Dining Room. We learned that this was where the President was inaugurated. We saw the Army before we left for the next stage of our trip.
Our second visit was to Dublinia. We learned about Vikings and a tour guide showed us around. We walked through a Viking town which had a lot of models of different things. We learned about what Dublin was like in the past. We learned about the Viking, what they did daily and the clothes they wore. We saw their boats – which were made out of Irish wood, houses, shoes, clothes and we even allowed to try on the helmets – which were very heavy.
We learned about the different ways they had for curing sickness or pain. For example – the remedy for a toothache was a pliers! They just ripped out the offending tooth. For leprosy there was no cure so the person was given a bell to warn others away. As a treat on the way home we went shopping in Liffey Valley for a little while."
According to Mikee "it was nice to go on a trip with friends, to get out of school and learn in a different way." The students were complimented on their excellent behaviour by the tour guide in Dublinia and they were a credit to the school.
Trocaire Game Changers
Students recently took part in Trocaire's Game Changers event Carlow College. The students took part in simulation games as well as various tasks that affect the life of a refugee today. The students were joined by other schools around Carlow. Students worked in teams and tried to generate ideas for games that could highlight the issue/need for change.
Fairtrade Fortnight
There was a Fairtrade recipe competition for First Years in Home Economics using Fairtrade products. The winners were Ally O'Brien and Hannah Coakley with Hanna Lambe being the runner up. During the week there was also a staff hamper raffle to thank teachers for highlighting Fairtrade throughout Fairtrade Fortnight.
Daniel Pender Addresses Delegates at the CEIST Student Leadership Conference
 Presentation College was represented by Sixth Year students Daniel Pender, Meadhbh O' Sullivan and Ciara Lyons at the recent CEIST Student Leadership Conference. The conference took place on Wednesday 20th March in DCU Campus St.Patrick's College, Drumcondra. Ms. Nagle and Ms. Maher also took part. Well done to Daniel who made a presentation on the day on how he had shown leadership in Presentation College Carlow.
Seachtain na Gaeilge
Caith Amach É
On Monday 4 March Sixth Year Irish students took part in an Irish drama workshop 'Caith Amach É'. The workshop is a fast-paced, physical comedy sketch show in which the two actors, Niall and Aidan covered each of the twenty Sraith Pictiúr on the 2019 Leaving Certificate Oral examination. Afterwards Niall and Aidan gave some words of advice for the Irish oral exam and the students had an opportunity to speak cúpla focal themselves. Some students were selected from the crowd to take part such as "Jojo", the models, "Jordan" and even some of the teachers were dragged up on the stage. The students thoroughly enjoyed the show and laughed all the way through it. This will certainly help them through their Irish oral examinations in the upcoming weeks. 
First Year Irish Quiz
The First Years recently took part in a Tráth na gCeist as part of Seachtain na Gaeilge celebrations. The year group were divided into teams of five and were challenged by various rounds of Sport, Music, Geography, Television and Film and General knowledge. The students enjoyed listening and answering the questions as Gaeilge. Well done to the winning team of: Oliwier Jakubiec, Amy Reid, Rebecca Santos Horan, Sarah Amond, Darragh Brennan and James Cranny. Runners up were Martina Sulkowski, Paulina Sulkowski, Leah White, Amy O'Hara and Jamie Cullen. Míle buíochas to the Meitheal leaders and student council for helping out.
First Year Céilí
On Lá Glas (Green Day) Ms. Ryan, Ms. Breen and Ms. O'Driscoll's First Year Irish students made their way across to the Gaelcholáiste to take part in a céilí. The students watched some dancers perform some traditional Irish dancing including sean nós. The students learned some moves themselves practiced them by dancing together. A great event to end Seachtain na Gaeilge.
Treasure Hunt
As part of Seachtain na Gaeilge the Third Years completed a treasure hunt. Ms. Ryan carefully devised a range of clues and hiding places all over the school. The students were divided into teams of three and had to translate the clues and go to various rooms all over the school. Well done to winners Evelina Simkute, Emma Duffy, Rachel Kelly, Jack Geoghegan and Caitlin Wall. Also well done to runners up Jamie Condron and Oisin Shannon.
Daffodil Day
On Friday 22 March the staff wore yellow in support of Daffodil Day. There were fresh daffodils, goodies, raffle tickets and merchandise for sale at break time. Thanks to the Ms McHugh and her very motivated Daffodil Day Team.
Agri Aware Farm Walk and Talk
On Thursday 14 March, forty-eight Agricultural Science and Home Economics students, along with Ms. Bradley, Ms. Egan and Ms. Grant and our Erasmus teacher Paulina attended the annual Agri Aware Farm Walk and Talk. This took place in on the Irish Farmers Journal Farm located in Screggan, Tullamore, Co. Offaly. Students learned about sheep, beef and dairy breeds of cattle, grassland, health and safety, careers in farming and veterinary. Some students even got to help with the calving process! This was great for revision for our Sixth Years and will help Fifth Years with their Agricultural Science projects. It was also very beneficial for the Home Economic students and they learned about the different cuts of beef and lamb and also about the milking process of dairy cattle. It was a very enjoyable and educational day.
"Presentation Rising" – Under 14 Hurling Champions
A combination of Under 14 Hurlers from The Presentation College and Gaelcholaiste were crowned Carlow hurling champions after comprehensive victories over Hacketstown and Carlow CBS on Tuesday March 18th. In perfect hurling conditions the tournament was held in Carlow Town Hurling Club and will live long in the memories of all involved.
The first match between The Presentation and Hacketstown was a tense affair heading into the break until a goal from full forward Shane Duffy put daylight between the sides. Out the field the Presentaion lads started to get on top with wing-back Sean Buggy in particular standing out with some fine catches and pin-point deliveries to the forwards. Scores came a bit easier in the second half with mid-fielders Lee Carpenter and Oisín Pagnier having a significant influence on the game as their team ran out eight point winners with fine scores coming from Paul Fitzgerald and Conal Fitzpatrick from The Gaelcholaiste.
The Presentation lads having secured a place in the final, relaxed in the sun as the CBS fought it out with Hacketstown for the other spot in the showpiece event. That game made for interesting viewing as the CBS ran riot securing a victory by over 20 points. Despite this the players in red remained confident of upsetting the odds as a desire and hunger for victory was clearly evident in the group prior to throw-in.
CBS got the better of the opening exchanges but couldn't make it count on the scoreboard as unfortunately for them they came up against a tough and organised defence well marshalled by the superb Conor Treacy who kept two clean sheets form the two games. In front of him, David Iacob looks a re-incarnation of legendary Cork full-back Diarmuid "Rock" O'Sullivan as he thunders into tackles and drives out with ball after ball. He was well supported by tight marking backs Jack Ó Beachain, Aaron Shanahan and Andre Carvalho who kept their men scoreless throughout the game.
In mid-field The Presentation are blessed with two players who wouldn't look out of place on the athletics team as Carpenter and Pagnier constantly seem to be everywhere at once. They are the engine of the team and along Buggy and centre-back Alex Ó Dubhslaine play a smart brand of head-up hurling crucial for their positions.
Up-front Jack Ralph and John Ó Caidhin set the tone for hard work as they regularly turn-over the oppositions back six. Such a turn-over was crucial to the opening goal which was expertly
finished by the lively Terry French. Two further goals from Conor Duffy and Paul Fitzgerald saw the Presentation take an unexpected seven point lead at the break, 3.1 to 0.3.
It was more of the same in the second half as the CBS could not build any momentum to mount a comeback. Conal Fitzpatrick kept the scoreboard ticking over with some well taken points as The Presentation ran out convincing winners on a score-line of 4.5 to 0.5.
Report Submitted By: David O'Mahoney.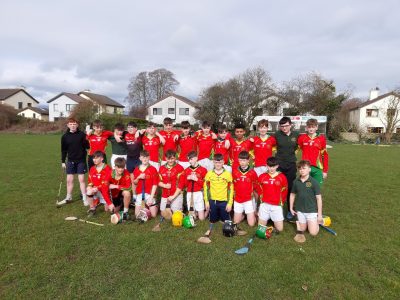 Presentation/Gaelcholaiste Team. (All players are from Presentaion College unless stated).
Conor Treacy, 2. Andre Carvalho, 3. David Iacob. 4. Aaron Shanahan. 5. Sean Buggy. 6. Alex Ó Dubhshlaine (GC) 7. Sean Ó Beacháin (GC). 8. Lee Carpenter. 9. Oisín Pagnier. 10. Paul Fitzgerald. 11. Conal Fitzpatrick (GC). 12. Jack Ralph. 13. Terry French. 14. Shane Duffy. 15. John Ó Caidhin (GC) 16. Mickey Maher. 17. Paul Grey. 18. Ross Ó Hanluain (GC) 19. Cian Ó Gormain (GC). 20. Andrew Vint (GC). 21. Cian Ó Riabaigh (GC).