Congratulations to our Leaving Certificate Class of 2020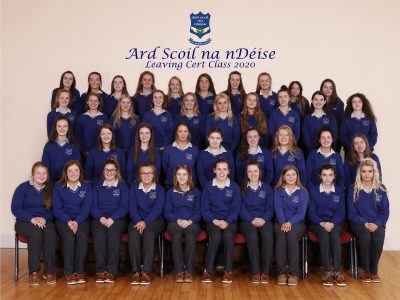 The Board of Management, Parents' Council and staff of Ard Scoil na nDéise would like to extend their heartfelt congratulations to the Sixth Year class of 2020 who received their Leaving Certificate results on Monday, 7th September. Thank you to the teachers in Ard Scoil na nDéise who supported the girls throughout their time in the Ard Scoil. Thank you to the Sisters of Mercy for keeping the girls in their prayers in recent months. We are so proud of the girls and the excellent results that they achieved. They showed remarkable resilience and commitment to their studies as they finished off their Leaving Certificate Year in such challenging circumstances. It is wonderful to see all of the hard work pay off as our class of 2020 moves on now to start the next chapter of their lives. We wish them every success in their future endeavours and we look forward to hearing of their successes and achievements. Well done girls!!!!
Congratulations to our Junior Certificate Class of 2020
Well done to our Junior Certificate Class of 2020 on their excellent Junior Cert results. We are so delighted to see that all of the hard work put in by parents, staff, and students alike paid off and that the girls achieved such outstanding results. This year, for the first time ever, Junior Cycle Students were presented with a report card from the school outlining the students' achievements and giving feedback on their results. It was clear from each and every report that the class of 2020 worked so hard to achieve their wonderful results. We are so proud of our high achievers but we are equally proud of every student who worked hard and did their very best to reach their full potential in the midst of such challenging circumstances. We are delighted that they did so well and we look forward to continuing to support the girls in the years to come. Thank you as always to their teachers for all of the work they did with the girls and thank you to the Mercy Sisters for keeping them in their prayers.
Transition Year Trip to Clonea
Recently, the Ard Scoil na nDéise Transition Years started the year with a great trip to Clonea Beach. We headed off at half past nine with our Year Head Ms. Kirwan and our TY coordinator, Ms. Twomey. We were very lucky that the weather held up all day. It was even warm at times! It took us about two hours to get there, but it gave us all a great chance to catch up with friends that we haven't seen since March. We took advantage of the Greenway, which is right on our doorstep. It has become increasingly popular amongst tourists, especially since the rise in staycations this summer!
When we arrived at Clonea, we all headed straight for the picnic tables for a much needed rest and a bite to eat! We all headed down to the beach, feeling replenished from our lunch. There were so many different activities available at the beach that everyone was enjoying themselves! A few girls were being creative and building sandcastles. Others were splashing in the freezing water. Some girls enjoyed a big, competitive game of rounders and hop-along where we spread out over the length of the beach. A lot of girls brought their hurleys and had a puck along the beach. At half two, we began to make our way back to school. But not before getting a 99 at the shop! The walk home certainly felt longer, but we took our time. The teachers made sure that everyone made it back for the end of school time and buses. It was a great way to start the year. I think everyone thoroughly enjoyed the day, and I know we all had a good sleep that night!
Written by Emma Fitzpatrick and Órlaith Dalton
Ard Scoil na nDéise participation in the Bebras Challenge 2019
Congratulations to Sarah Power, Orlaith Dwyer, Kate McKeon, Alison Martin & Martina Nowotny who qualified for the Bebras National Final in Maynooth University. The computational thinking challenge was due to take place on 19th of September but unfortunately had to be cancelled due to the Covid restrictions. Bebras Challenges test your logic and computational skills through different types of fun and challenging problems. We are very proud of the girls for qualifying for the national final and we know they would have done a great job if they had been able to compete!