Our School in the Cloud: School Announcements
In Colaiste Iosagain Portarlington we have tried to maintain a sense of Community even though we are all apart. We would normally have daily announcements in school so we decided to send these out three times a week Monday, Wednesday and Friday to all students in our school. We continue with activities we would normally carry out in school such as Word of the Week, Operation Colaiste Iosagain, etc. Parents and students have reported back they find these announcements very positive when at home and they look forward to them. We keep the tone positive and encouraging and we find it is a good way to keep us all connected during this time.
Click here to listen to school announcement on Friday 3rd April
Our School in the Cloud: Students Perspective

Covid 19 is a global pandemic that is completely changing our lives and how we live them. We miss our friends, teachers, family and normal daily life. One of the biggest changes for me as a first-year student in Coláiste Íosagáin Portarlington is not going to school. Of course, we can't miss out on weeks of school so to prevent this happening our school has been set up on Microsoft teams. Working from home has advantages and disadvantages but in general the experience has been okay.
I suppose we are lucky to be growing up in a world where all if not most students have access to the internet or at least some device in which to contact their teachers and friends, if this were 20 or 30 years ago however, it would have been difficult to do schoolwork because not everyone had access to the internet. Our generation also have the advantage of being able to use the technology as we grew up around it, you can tell when some of the teachers learned to properly use the app as we were suddenly loaded with tons of work.
As previously mentioned, the app we are using to communicate with the school is Microsoft teams. The app was set up by Microsoft in 2017 and it allows groups of people to communicate through a messaging platform, video calls and voice recordings. For each class we have a different 'team' with the teacher and students in the class and the teachers can put up activities and assignments. The app is easy to navigate and it didn't take too long to get used to the layout.
There is also a group with everyone in the school in it run by Mr. McGlynn who is one of the vice principals in Coláiste Íosagáin. Every day at 11 o'clock we are asked to jog on the spot for operation Coláiste Íosagáin (easy cheat) and then send a thumbs up into the group. There are over a thousand students in the school so you can imagine how many thumbs up are sent into the group on a daily basis. It's enough to drive you through the roof. Mr. McGlynn also sends announcements, the word of the week, a prayer and a few words of encouragement in a voice note.
Of course, working from home has its advantages and disadvantages
Advantages of working from home:
Students may find it hard to take notes in a classroom quick enough to keep up with the teacher so when they are able to take their time when taking their notes, it can take a lot of pressure of them.
Every class in the country has students who tend to talk a little bit more than they should in class. Every class have students who are easily distracted by each other so when there is no one to distract you, you can get the work done a lot quicker.
Disadvantages of working from home:
Not seeing your friends and teachers can be hard especially when you're used to seeing them every day. Some people find it easier to work in groups of people so when left on their own, it can be hard to work.
When at school, you can always ask your teacher if you can't understand something but when you are at home it can be hard for teachers to explain how to do the work such as explaining how to do a particular sum.
At times it can be hard to motivate yourself to take out your schoolbooks when you are missing normality. When you are missing your friends and family, working from home can be hard.
It can also be quite frustrating being in contact with your teachers 24/7 and they really do take advantage of it. On Friday the 6th of March (which was the day we were supposed to start our Easter holidays), I won't say who but one of my teachers sent us homework at six o'clock that evening and to make matters worse it was due the next day which, might I add, was Saturday. We were supposed to be on our Easter holidays. To be fair, they didn't send work after that.
In general, my experience of 'school in the cloud' as a first-year student of Coláiste Íosagáin Portarlington has been alright. Even so, I am looking forward to going back to normal and from everyone in Coláiste Íosagáin Portarlington, stay safe.
written by Laura Slevin – 1st year
Colaiste Iosagain Crufts Medallist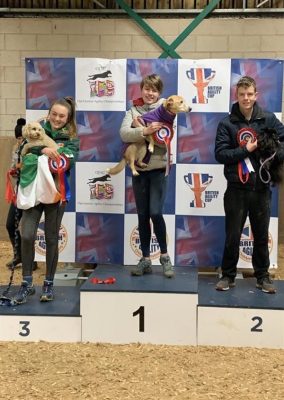 Congratulations to Becky Mulally 3D and her dog Georgie who have come third in the small dog category at the 2020 Open Junior Agility Championships in Northampton in the UK. The duo will also be competing in the world renowned dog show "Crufts" in the near future. Well Done Becky.
All-Ireland Boxing Champion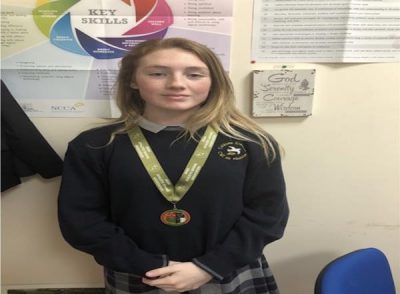 Well Done to Rachel Lawless, LCA 1 who is U18 All Ireland Boxing Champion. Rachel won in the 51-KG category event which took place in the National Stadium on Friday 31-January .
Colaiste-Iosagain-Goes-Orange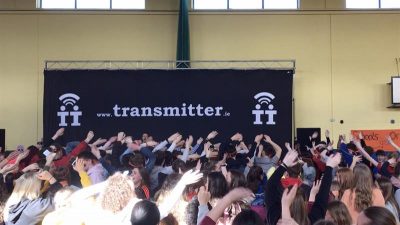 Once again the school's Orange Team ( to support mental health ) has organised a tremendous event. Activities to build resilience were carried out in reception where students could try out physical challenges like Skipping and the Plank. Meanwhile the Meitheal team of 6th years were once more working with 1st years ( in the canteen). In the PE hall a live band called Transmitter were loved by all, and a message wall of hope was created.