Junk Kouture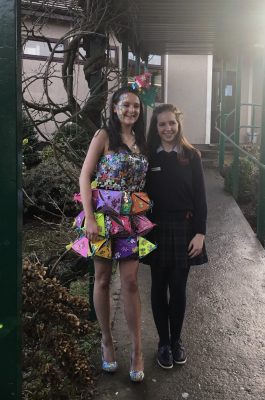 We are very proud of Junk Kouture entry 'Piece of Mind', created by students in Transition Year, Tara Fitzgerald and Leanne O'Sullivan. They are through to the Regional Final in Limerick on Friday 6th March.
Enterprise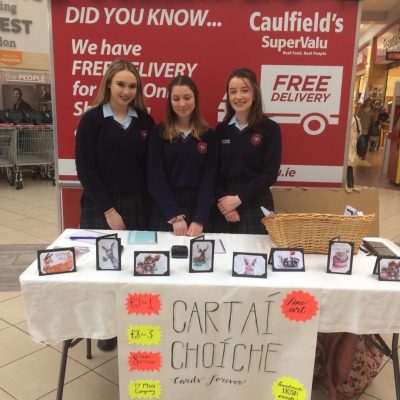 Hannah Morrissey, Kerrie Sweeney and Chloe McCarthy are three of our TY students who, with their mini-company Cártaí Choíche, are through to the final of the West Cork Student Enterprise competition. They have had huge sales of their products to date in Riverview Shopping Centre, Bandon.
PsychSlam

Six of our TY students, Katie O' Regan, Fiona O'Dell, Niamh Lucey, Deirdre Brown, Tara Fitzgerald and Clodagh Walsh have entered the 2020 PsychSlam competition. This is organised by the School of Applied Psychology,UCC, which invites TY student teams to research a topic in Psychology and present their findings in a 6-minute PowerPoint presentation. The students will be competing on Friday 28th February.
Coláiste na Talent
Coláiste na Talent was a talent show run by one of our TY classes 4.2 to shine a light on the musical talent in the school. With their class teacher Ms Magner, the students held a 2-day audition with the grand final on Friday 31st January. It was great fun for everyone involved, whether it was watching the performances, supporting, setting up the stage or actually having the confidence to get up on the stage and perform in front of the school.
Mock Elections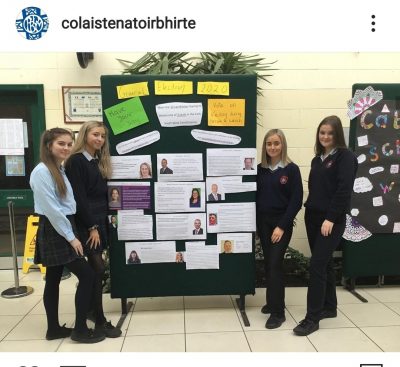 On the 6th of February Students had the opportunity to participate in a mock election for the General Election 2020. Students voted on iPads at break and lunchtime for their top candidates in the Cork Southwest Constituency.
TY Trip to Dublin
Our TY students travelled to Dublin on the 22nd of January for a three day trip. One of the most memorable experiences from the trip was a tour of Christ Church, where they got to ring the bell from the bell tower at the top of the church. Other highlights included a walking tour of Dublin, a visit to the National Museum of Ireland, 'Sound of Music' musical in the Bord Gáis Energy Theatre and 2 hours of workshops in Explorium- National Sport & Science Centre.
I-Wish
Transition year students had an enjoyable and informative trip to the  I-Wish STEM event. They listened to different women in STEM careers and University students tell them about their experiences. They also got the opportunity on the day to network with local Cork STEM companies and organisations.
Athletics Success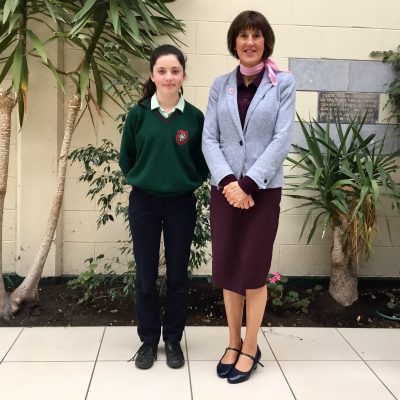 Congratulations to Ella Collins of 2nd year who has qualified for the upcoming All Ireland cross country finals.
Sporting Success in Basketball
Both 1st and 2nd year Basketball teams have won all their matches to date and are through to the quarter final of the league.