Learning During Lockdown
Firstly – we would like to say well done to all of our students, parents and staff on another fantastic week of remote learning.  We are all so busy with Google Classroom assignments, Loom Videos of Topics and Live Zoom classes. Thanks to all of our girls who are working so well. We are working ahead and keeping on track!  Keep up the good work girls!!
We will always remember Thursday the 12th of March when An Taoiseach, Leo Varadkar announced that schools were to close.
These are very strange times indeed for us all. Since the schools closed we have all had to get used to a very adjusted way of continuing with education. Students and teachers in St Mary's have been using digital technology platforms such as Google Classroom, Google Meet, Zoom and Loom to stay connected and continue with education to great effect.  There has been very positive engagement across the whole school community which has been helped in no small way by parents and families who are managing to work simultaneously and cohesively from homes which have now become offices and classrooms during the day.  Our teachers are running a full schedule of live classes for senior students in all subjects and for our junior students where necessary.
We are very conscious of the effects that this isolation can have on our mental and physical health and so we have been checking in with students on a regular basis to help them in any way that we can. We contact them individually and as groups, with help and suggestions on how to maintain a positive attitude during this challenging time.  This crisis has made us all adjust and adapt in ways we may not have imagined beforehand and is a testament to the strength of the spirit and character of our young people. Some of the initiatives we have put in place to support the students in St Marys are as follows.
Our Student Council held a Photo Competition called 'My View from a Distance'. They aked students to submit a picture of a view that they appreciate. The deadline for this competition was Friday 1st May. It was a lovely way to share the views that the girls are appreciating at this time of isolation and social distancing. After receiving many fine entries the Student Council awarded 1st place to Theresa Galvin.
Our Student Council have also recorded a video of positive messages to post on our Facebook page to encourage us all to keep smiling and stay positive.
With all the physical activity challenges that social media is presenting us with at the moment, Miss de la Cour, one of our PE teachers, went about bringing one to St. Mary's. It's called 'The 1 Hour, 1 Class, 1 Teacher Challenge'. Ms de la Cour completed one hour of physical activity and nominated her 2a2 class to do the same during their usual PE class time on last Friday morning. When finished, they nominated Ms O'Donoghue to be the next teacher to take on the challenge and to nominate another class in the school. Ms O'Donoghue completed her Challenge and she nominated The Buddy Group.  The Buddy Group completed the Challenge and they have nominated Mrs Kerrigan.  We will all have to wait and see who Mrs Kerrigan nominates, so dust off the exercise gear because it could be you!!  This is a fantastic fun way to encourage us all to stay active and stay connected.  Well done to all.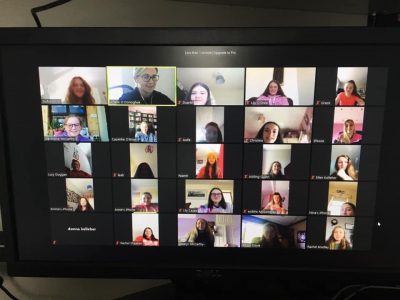 Our lovely Buddies had a zoom meeting with Mentor Ms O Donoghue recently and they have come up with a number of activities that they would like to try in order to support and help our 1st years while schools are closed.  Thanks so much to our Buddies for being so kind and caring.  Hopefully all of our First Years will get involved and enjoy this opportunity to stay connected with their classmates, the activities include:
Weekly zoom meeting for the individual buddy groups every Monday
Snapchat Partnerships – where the Buddies have partnered each first year up with someone in their year group who they are to contact via SnapChat (or using any form of media) during that week.
Positive List – together the Buddies and first years are going to compile a list of things that keep them happy during isolation.
Buddy to do list "5 a day" – every morning the Buddies will give the First Years 5 things to do that day, for example, Drink 2 litres of Water, Walk 2km, Eat 5 pieces of Fruit, Make the dinner with your parents, Ring or Text a family member etc.
Weekly challenge.
Kahoot quiz on Zoom every Thursday evening and
Links to Meditation every Friday
The school building may be closed but our very talented Trad Group and Ms Queally are finding innovative ways to continue to play together. They will be posting videos of their performances on our Facebook page for us all to enjoy.
Congratulations to Theresa Galvin who was chosen as a finalist in this year's PressPass PhotoJournalism Competition.  Well done Theresa.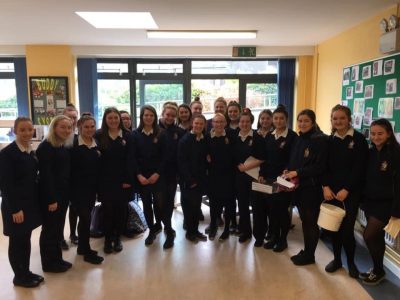 Congratulations to Aoife O Connell on her charity Head Shave.  Aoife's fundraiser took place in school on Wednesday the 11th of March.  At that stage she had raised over €2200.  Aoife was donating all money raised to Macroom Community Hospital and she donated her beautiful hair to the Rapunzel Foundation.   Well done Aoife, you are an inspiration, we are so proud of you.
We wish all of our Students, Parents and Staff a healthy, happy, well deserved summer break!!
"Ní neart go cur le chéile"