Teachers and pupils alike were very busy this Christmas season in Meanscoil Mhuire Longford. Many activities took place this December that truly got everyone into the spirit of giving and unity.
On December 14th, our annual carol service in St. Mel's Cathedral took place. It was performed for all students and teachers during the day and friends and family that evening. It told the iconic story of the Navity, accompanied by classic Christmas songs such as "Oh Holy Night" and "Noel", as well as beautiful songs from our Trad group. We also had a special rendition of "Silent Night", featuring our Transition Year students gracefully performing in sign language. It was a wonderful showcase enjoyed by all.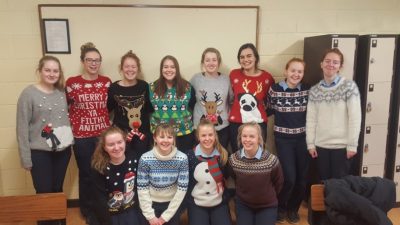 The Transition Year journalism class broadcasted a special message throughout the school that truly highlighted the unity and inclusivity in our school. Christmas greetings in sixteen languages including Irish, Italian, Croatian and Chinese were recorded to reflect the multicultural element of our school and encourage pride in one's individual heritage. As a Ceist school, we believe Christmas is always a great time to reflect on the importance of acceptance and love in our community, both local and on a bigger scale.
On December 13th, the school held its annual Christmas Jumper Day. All students brought in €2 and wore their festive best for the day to show the feeling of fun and generosity during the Christmas season. Every year, all money raised goes to worthy charities and this year was no different: the €600 collected went to the Society of St. Vincent de Paul, which focuses on alleviating the effects poverty on families and individuals. A cheque was presented to Joe Finnegan at our school's Carol Service.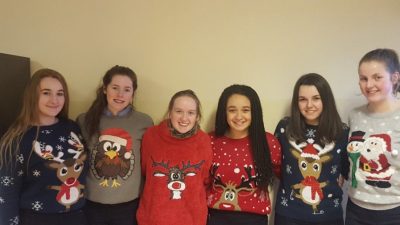 Students and teachers all marvelled at our annual Christmas Fair on December 22nd, as everyone enjoyed treats and sweets that were hand-baked and sold by our very own students. Attendees were also treated to a surprise visit from Santa Claus himself! Once again, all money raised went to the admirable Society of St. Vincent de Paul.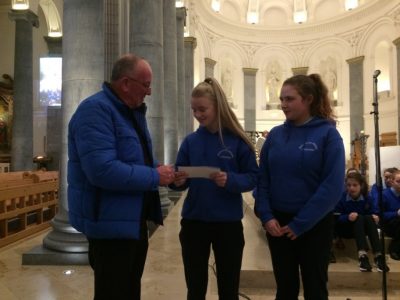 This, and all our other seasonal activities, allowed everyone to celebrate as a Ceist school and immerse themselves in the spirit of festivity, unity and, above all, love.