Science Week 2019
As part of Science Week 2019, Transition Year students took part in SciFest@School. They displayed and presented a variety of different projects ranging from social experiments to chemical reactions. Judges from SciFest visited each project and awarded many prizes to students at the end of the day. Our own students also got the opportunity to view each project and vote for their favourite. Well done to all Transition Year students on the hard work they put into each project.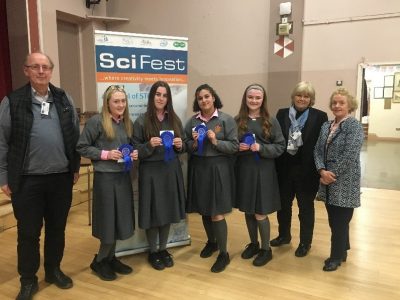 The project titled 'What factors affect short term memory loss' impressed the judges the most and received first prize. The winning students were Emma Shine, Alex Feeney, Sinead Khorang and Eve O'Rourke. They are pictured above with the judges and Ms Lynch.
Pictured above are Laura Davara Saez, Eilish Paseos, Alexandra  Diaconu. This group placed second with their project which investigated the amount of Vitamin C present Citrus fruits.
There were many other projects highlighted by judges as highly commended, best display and for innovation. Below are more pictures taken from the event.