Mercy College Sligo celebrated Mercy Day 2016 with an Awards Ceremony in school in the morning followed by a Mass in St Anne's Church concelebrated by Archbishop Charles Brown, Papal Nuncio, Bishop Kevin Doran, Bishop of Elphin and priests of the Parish of St Anne's and the diocese.
The day was a very special one as it celebrated the coming of the Mercy Order to Sligo 170 years ago and the 40th anniversary of the present day Mercy College as well as 70 years of the primary school.
Former Principal Sr Mary Forde gave a short history of the Order in Sligo and their various charitable activities in the days immediately after the Famine and during the Cholera epidemic in Sligo down to the present with involvement in education and nursing in times when it was desperately needed and appreciated by the poor of the town.
The Mass was attended by all students of Mercy College and Mercy Primary Schools, present and retired staff and guests from all the educational and civic authorities in Sligo and representatives of CEIST and the JMB.
Special guest was Sr Aidan who at the age of 104 was the oldest Sister of Mercy in attendance and who featured in recent newspaper and TV reports in a feature on the Sisters of Mercy in Sligo.
The school choir sang under the direction of Ms McIntyre and Ms Dufficy and accompanied by Leonard Dorrian. Solo traditional musicians played during the Mass and the Mercy Primary school choir sang the Offertory hymn.
The Papal Nuncio congratulated the students and staff on the excellent work in organising the Mass and said he welcomed the invitation to come to Sligo and wished us all a Happy Mercy Day.
Bishop Doran also added his congratulations to all involved in the Mass and said it was all particularly relevant in this Year of Mercy.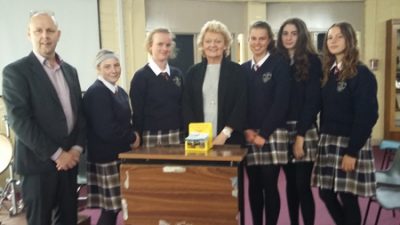 Pictured above Mercy College Sligo had a visit from the Irish Kidney Assoication as part of their Spirit of Mercy Wellbeing Week.
Leading up to Mercy Day, Mercy College held a Spirit of Mercy Week with motivational speaker Jerry Duffy and John Pridmore author of From Gangland to Promised Land as well as Nutrionist Gabriel Mc Sharry and a talk on Organ Donation by Marie Fowley and Michael McHugh from the Irish Kidney Association.