Ard Scoil na nDéise Ski Trip 2018
On the 10th February the Ard Scoil girls headed off to Dublin airport to depart for their week of skiing in Andorra. It was a long day travelling. When we arrived at the hotel at 01:30am everyone went straight to sleep. The next morning we were up bright and early as we had a long day ahead of us. First we had a 10 minute bus journey to where we fitted our boots, skis, poles and helmets. Then we took a 15 minute Gondola trip to the slopes. We were introduced to the instructors that would lead us for the week. For our first lesson they taught us the basics. It was a tough two hours but we all pulled through to lunch. We had an hour and a half of resting to revive our energy levels for our next two hours on the slopes. After lunch we practiced on the green slopes improving our turns and stopping. We had a few falls along the way but everyone was eager to get up and try again. After a long day everyone went back to the hotel to get ready for a competitive game of bowling. We were glad to see our dinner and went to bed tired but happy.
We were kept busy all week and every evening we had an activity such as going shopping in the charming town of Andorra, where we bought souvenirs and explored the different shops it had to offer. Tuesday we had pizza night and we got a taste of their Andorran culture. On Wednesday we all devoured crepes, celebrating pancake Tuesday back home. After the strain of a new sport on our legs and arms, we relaxed in the swimming pool, Jacuzzi and sauna. This worked wonders and really helped us to loosen out. We ended the week on a high attending a disco with many other Irish schools that were staying in the area. Everyone was sad to go and we were already planning our Sixth Year holidays!!!
The week flew by, everyone was amazed by the stunning scenery and mountains. Snow fell overnight leaving us captivated by the blanket of white each morning. Everyone progressed greatly and towards the end we had many people skiing down the red slopes with great ease. Every day it got easier and each girl would definitely agree it was a brilliant experience and one of their most enjoyable holidays.
Written by Sarah Lacy and Aoife Dee
Cross Country: Inter girls regain their East-Munster Title
In Spring-like weather, the East Munster Cross Country Championships were held in Carriganore on the 8th Febuary. There were some excellent performances by the Ard Scoil athletes.
The Intermediate girls fought hard to regain the East Munster title that they had also won last year. This was one of the most competitive races on the day. Lucy Holmes finished in 2nd place overall and was followed home by her team mates Mary Kate Prendergast, Sarah Lacey, Elia Tutty, Orla Keane and Aoife O'Brien. Well done girls!
The Junior girls also had an excellent day finishing 3rd best team. The members of the team are Emma Hickey, Anna Hickey, Sarah Nyhan and Mary Bradfield. Well done girls on this huge achievement!
Sinead O'Brien had to run solo in the Senior girls' race. Sinead knew she had to finish in top 15 in order to qualify and she did just that. It isn't easy to have to run solo and we are so proud of her achievement!
Well done too to the Minor girls' team of Aoibhe Murphy, Roisin Quinn and Millie Lucey who missed out on medals on the day. We are sure that their day will come and we are delighted to see their commitment to training to improve on this performance.
Best of Luck to all of the girls in the upcoming Munster Finals.
Ard Scoil Student Wins Prize in National Final of Credit Union Art Competition
Congratulations to Megan Lennon, Sixth Year, who was recently presented with first prize in the eighteen years and over category of the Irish League of Credit Unions All Ireland Art Competition. The theme of the competition this year was 'Set Your Imagination Free'. Megan entered a stunning and thought provoking piece and was praised by the judges for the originality of her entry. The awards ceremony took place in Croke Park on Sunday, 11th February where Megan was presented with her prize by Marty Whelan. We are so proud of Megan's success and we wish her well in her future artistic endeavours. Well done to Megan's art teacher Ms. Foley who had nurtured and supported Megan's talent over the past number of years.
Safer Internet Day in Ard Scoil na nDéise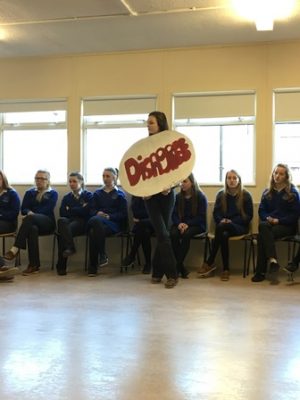 On Tuesday, 6th February Ard Scoil na nDéise got hugely involved as a school in Safer Internet Day. The safer internet day committee included Gráinne McGrath, Rebecca Hanna and Kate Hickey and, with over a month of preparation beforehand, they had a very successful day! Their goal was to promote safety on the internet and bring the school together as a community and they certainly achieved that goal!
Throughout the day the committee had loads of events organised for mainly the First and Second Year students. They put together a power point presentation based on internet safety. Some of the topics on the presentation included, the danger of sharing personal information online, the effects cyber bullying can have on a person and advice from famous people such as Suzanne Jackson and James Kavanagh.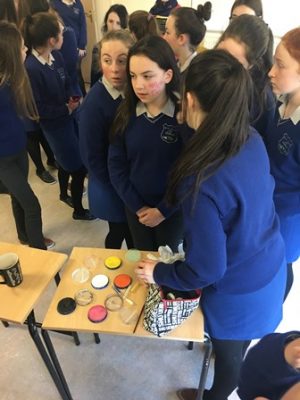 At the end of the presentation they gave the #Up2Us wristbands to the students, these wristbands were sponsored by WebWise Ireland for any group participating in Safer Internet Day 2018. Once everyone had a wristband a group selfie was taken to promote #SafeSelfies. The presentations went very smoothly with both groups of First and Second Years and the girls were very pleased with the positive feedback from the students and teachers. It was wonderful to see our students showing such leadership in terms of educating their peers on internet safety.
In preparing for Safer Internet Day the girls on the committee spent a lot of their free time working on putting together competitions and activities such as poster competitions, anti-cyber bullying campaigns and waking debates.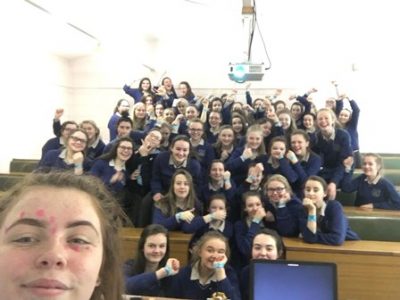 The anti-cyber bullying campaign was put in the TY hall. It was bright in colour to catch the attention of students passing by. A #BeInCtrl poster competition was held within the school and the winners received great prizes such as vouchers and sweets. The committee got very artistic and imaginative with their cardboard cut outs, they made huge cardboard signs for their walking debate, they painted both signs white and painted on 'agree' and 'disagree' to each cut out. All the Transition Year students got involved for the debate and the signs were used to show a very clear image when discussing the topics on the walking debate.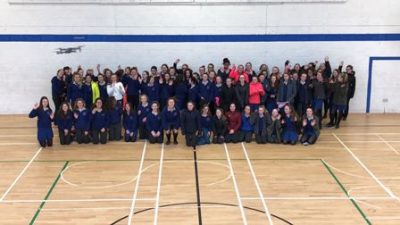 Another cut out was made of an Instagram page, this was one of the hardest tasks for the girls as there was a lot of detail to be replicated, the centre was cut out so people could take pictures and make it look as if it was on Instagram, the finished product looked very effective and was definitely a favourite with the students.
During small break all First and Second Year students were invited to come to the First Year classrooms for face painting, this got loads more people involved and also helped promote Safer Internet day. The students got #BeInCtrl, #Up2Us and SID painted across their faces in all different colours which they really enjoyed.
Overall the Ard Scoil had a really enjoyable day promoting Safer Internet Day and raising awareness of the dangers of the internet. We would like to thank Grainne, Rebecca and Kate for all their hard work at committee level and we would like to thank the staff and students for getting so involved in Safer Internet Day activities at Ard Scoil na nDéise.
TY Eagle's Flight Day
On the 23rd of January 2018, Transition Year students had a day of team building exercises with Dave and Ger from Eagles Flight. We were separated into our two classes, A and B, TYA worked with Ger for the whole day and TYB worked with Dave.
For our first exercise, we were split into teams of four or five at different tables. It was called 'The search for the lost Dutchman's gold mine'. It was set up like a board game, but there were many different aspects to it. Each team had to go through the desert one of three ways to get to the mine, mine as much gold as we could and get back home before the 20-day limit was over. Each day lasted two minutes and different supply cards had to be given up depending on the weather. If you ran out of supplies, you lost half your gold. We were competing against the other class with the combined amount of gold we got, but it was a draw at 36 pieces each. We really enjoyed this as it was fun and made us work as a team.
For our second exercise, we had to build a bridge. We were in different teams again, with each team having to be responsible for building a different part of the bridge. We had a limit of 75 minutes to build it, and we were against TYA again. We struggled with connecting the different pieces and working out where they go from the pictures. Each team had a leader that had to be responsible for them. They had to wear a yellow builder's hat while the overall leader of all the teams had to wear a blue builder's hat. We were beaten by TYA unfortunately, by around five minutes. We still really enjoyed the day and learned a lot. We would like to thank Dave and Ger for taking the time to come in to us.
Written by Robyn Power, Transition Year
Ard Scoil na nDéise represented at the Student Enterprise Awards
On Thursday, January 25th six Second Year students travelled to the WIT campus for the Student Enterprise Awards. The girls that travelled were Katie Lennon and Abby Ryan with their business Twenty03, Kate Fleming and Anna Kickey with A & K Crafts, and Chloe Lenihan and Jennifer Cronnolly with Greenway Postcards. The girls were featured on WLR FM showcasing their enterprises. One group in the intermediate category will travel to Croke Park for the national final. Well done to all involved for setting up, running and sticking with your businesses throughout the year. Well done too for mounting impressive displays at WIT on the day. We wish you all well with your preparations for the next stage of the competition on March 13th.
St. Brigid's Day at Ard Scoil na nDéise
On Thursday, February 1st, First Year students spent some time bonding while making St. Brigid's Crosses to mark St. Brigid's Day. The girls worked hard to get the hang of the tricky business of making the crosses but they all had great fun trying to get it right! Thank you to our First Year Year Head Ms. McCarthy for gathering the reeds and for organising the activity.