As we journey through the Advent season in preparation for Christmas, we look forward with anticipation and hope.  Our November newsletter once again serves to give just a glimpse of the many activities happening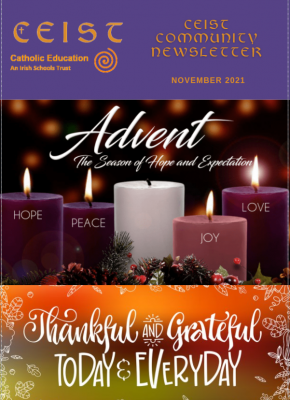 in our schools across the country, under the five CEIST values.
Sincere thanks to our individual student and teacher contributors for this edition who hail from Presentation Secondary School Warrenmount, North Presentation Secondary School Faranree, Mercy Secondary School Ballymahon, Ard Scoil na Tríonóide Athy, Presentation Secondary School Ballingarry, Mercy College Coolock and Presentation Secondary School Waterford.  St. Joseph's Secondary School Rush is this month's "School In Focus" and we thank them for sharing with us.
Many ongoing activities give evidence to our daily challenge to witness Christ In School Today – May this good work continue!
Enjoy!!