The spirit of giving at Our Lady's
Our Lady's school community once again gave very generously to the SVP appeal when they were successful in collecting food for 19 hampers which also included meat vouchers, a welcome present at Christmas time to any family in the locality.
The project was spearheaded by Ms. Johnston's LCVP class where the students collected, wrapped and presented the hampers to the local Saint Vincent De Paul. The response from the school community was very generous and the students were delighted to make the presentation to Mrs Carmel Allen representing Castleblayney SVP.  A special thank you to students, their parents and staff of Our Lady's who gave so generously and made the appeal such a wonderful success.
Another group of students who were very busy over the festive period were the students and staff involved with the Knights of St. Columbanus Christmas Day Dinner for the poor and homeless of Dublin City and the surrounding areas. It was the 95th hosting of the Dinner held in the RDS which was attended by over 450 people. Staff and students from Our Lady's fundraised for the event as well as helping prepare some of the beautiful food eaten on the day. Well done to all involved and a big thank you to all who contributed so generously to this cause.
Finally, well done to our 1st Year English students from classes 1A, 1B and 1E who raised an incredible €1,000 for Multiple Sclerosis Ireland as part of the annual MS Readathon. Now in its' 30th Year the MS Readathon encourages those who already seasoned bookworms and helps those who seldom read to rediscover the sense of wonder and adventure they once felt when they first heard "Once upon a time".
BT Young Scientists Competition
Outstanding Success for Our Lady's at the BT Young Scientist Exhibition as Kaitlin, Emma & Ryan achieve first place in the Chemical, Physical & Mathematical section
Congratulations to three Transition Year students from Our Lady's Secondary School Castleblayney, Kaitlin Brereton, Emma Bannigan & Ryan George who achieved first place in the Chemical, Physical & Mathematical intermediate section at the BT Young Scientist Exhibition with their project entitled 'Icy Hot: An Investigation to Prove the Existence of the Mpemba Effect and Examine Under Which Physical Circumstances it Can Occur'.
Kaitlin Brereton, Emma Bannigan & Ryan George who achieved first place in the Chemical, Physical & Mathematical intermediate section at the BT Young Scientist. They are pictured with school Principal Mr. Eddie Kelly and their Young Scientist module teacher Mr. Kevin NolanThe aim of the project was to investigate the 'Mpemba Effect'. While making ice-cream discoverer Erasto Bartholomew Mpemba noticed that the hot mixture froze faster than the cold mixture. This prompted an investigation which led him to conclude that 'hot water freezes faster than cold water'. The students' project consisted of six different experiments relating to this area and a detailed analysis of the findings from these experiments that were analysed and presented in comparison with the 'Mpemba Effect'.
The students and their Young Scientist Transition Year module teacher Mr. Kevin Nolan have spent evenings after school, weekends and even part of their Christmas holidays analysing, charting and compiling data for the project. At the BT Young Scientist exhibition, the project generated a lot of interest as the judges and many of the attendees were extremely impressed by their comprehensive research and findings on a very interesting topic. The students engaged with thousands of people and were very grateful for the many people who visited their stand including many local representatives from Cavan Monaghan.
Speaking at the school during the week the school Principal Mr. Eddie Kelly congratulated the students and their teacher Mr. Nolan on their outstanding success at the BT Young Scientist competition, 'I'm absolutely delighted for Emma, Ryan and Kaitlin and on behalf of all members of our school community I congratulate them wholeheartedly on this fantastic achievement. The students have put an incredible amount of work into this project and their success here at the BT Young Scientist competition is well & truly deserved. The students have shown how an idea can be developed and how you can reap the benefits of preparation, perseverance, hard work and commitment. Emma, Ryan and Kaitlin have a huge interest in the STEM subjects and we are delighted to facilitate and develop this interest with the Young Scientist module that was introduced in Transition Year this year. I would also like to take the opportunity to thank all the science teachers in our school for the work they do in promoting science and technology and for developing such an interest and passion in this area among our students. I would in particular like to thank Mr. Nolan who gave so generously of his time and expertise and worked very closely with the students and who was a great source of guidance and support to them throughout this incredible journey.'
Congratulations to all concerned and no doubt we will be reading more about the exploits of these students in the technology field well into the future.
Final Scholarship Success for Our Lady's in 2019
Congratulations to Karolina Kiecka who received the final academic scholarship of an action packed 2019 in Our Lady's. Karolina received an entrance scholarship to DCU on foot of her excellent results in the 2019 Leaving Certificate. This latest success brings the total of academic scholarships to four from the Leaving Certificate class of 2019. The DCU Academic Scholarship is given to students who achieve in excess of 550 points in their Leaving Cert results. Karolina is currently studying Accounting and Finance. She has been a wonderful role model during her time at Our Lady's and we as a school community are very proud of her achievements to date.
Principal, Mr Eddie Kelly offered his congratulations to Karolina and her family. "Karolina's fantastic success hasn't come without a lot of hard work and effort, she is a credit to herself and her family and we in Our Lady's are very proud of her achievement. She is a wonderful ambassador for the school and she epitomises all that is good in Our Lady's, striving to do her best, to make the most of her talents while remaining true to her core values of honesty, integrity and fair play.  All of the staff  join with me in wishing Karolina well in her future endeavours, as we do to all the class of 2019 in their chosen career paths and courses.  Of course none of this could happen without the hard work of a very committed and dedicated staff and on behalf of the students I would like to acknowledge their unfaltering commitment and interest in the well being of their students." Congratulations to Karolina and her family.
Basketball – Hoop Dreams for Our Lady's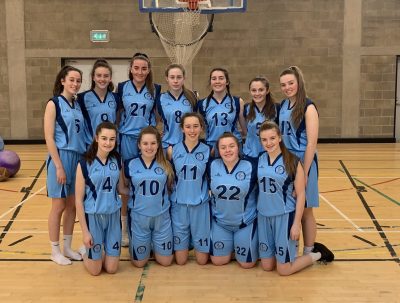 It has been an extremely busy and successful week for the boys and girls' basketball teams in Our Lady's. With all teams participating this season at "A" level the hard work being put in by all the teams and their coaches has really been paying dividends. First up were the Boys U-14 team who won all three of their games at their competition held in Presentation Bray on Friday 10th January. Thanks to those three victories they have now qualified for the All Ireland Semi-Finals on the 23rd March. Captain Max McGinnity was top scorer on the day closely followed by Tom Carey and Canice Murphy.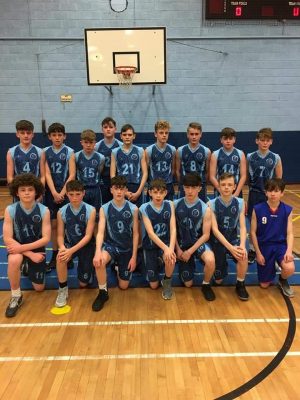 Next up was the U-15 Boys who won two of three of their group games in the competition held in Our Lady's. Unfortunately, the boys just narrowly lost out on an All-Ireland Semi-Final spot after losing by five points to last years All Ireland finalists St. Malachys Belfast. Top scorers on the day were Charlie McQuillan and captain Shea Casey. The Girls U-15 also narrowly lost out on a semi-final place after finishing second in the Subway All Ireland Schools Cup Tournament held in Loreto Dalkey. Having won two of their three games the girls finished second in their group. Top scorers on the day were Niamh Flanagan, Grace Cumiskey and Caoimhe Kelly.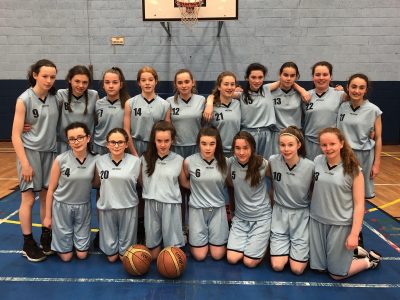 The U-14 Girls team fared one better when they topped their group after impressive wins against Loreto Dalkey, Loreto St. Stephens Green and Colaiste Choilmcille Ballyshannon. Katie Glynn and Caoimhe Kelly top scored on the day to help the girls qualify for the All-Ireland Cup Semi-Finals on 23rd March. Finally, it was disappointment for the Senior Girls team who just fell short in their All Ireland Qualifier match against a tough Portlaoise side. For five of the girls it was their last time wearing the Our Lady's jersey and their coach Ms. Brady paid the girls a special tribute, "I'd like to thank the girls for all their hard work and commitment over the years. They leave the school as North East Regional A champions and that is something they can be very proud of. I wish them the very best of luck in their future endeavours". Well done to all involved.
Our Lady's Edge a Thriller to Qualify for Irish News Cup Final
Our Lady's Castleblayney 3-16 St Pius Magherafelt 1-21 AET
Our Lady's Castleblayney Boys Senior GAA team qualified for the first ever Irish News Cup Final in dramatic circumstances last Friday at the Dub in Belfast. Playing against a very strong St. Pius X Magheafelt team, Our Lady's dug deep in the second period of extra time to secure a place in the league final.
Our Lady's looked in real trouble when St Pius X Magherafelt playing with a strong wind started the second half of extra time with two quick points. However they didn't add to their tally between then and the end and points from Josh Mone, Declan Courtney and a superbly measured pressure free from Stephen Mooney took Our Lady's Castleblayney through to meet Loreto Milford in ten days' time.
In an absorbing contest, St Pius X seemed to be in control early in the game until a goal from Our Lady's looked to be giving them momentum, but then it was level at half-time, full-time and extra-time and seemed to be heading for penalties when Mooney with his 12th point secured the ticket to the final against Loreto Milford.
Our Lady's free-taker, Stephen Mooney was in superb form over the hour hitting ten frees in total. St Pius X took a 0-4 to 0-2 lead after 12 minutes playing into the breeze. However a goal from Conor Eccles in the 15th minute lifted Our Lady's and Mooney added three frees as his side went 1-5 to 0-5 up.
In the minutes before half-time St. Pius X rattled off four unanswered points to leave it all square at the change of ends, 0-9 to 1-6. In the third quarter Magherafelt led 0-13 to 1-7. But Mooney hit back with two frees before a fine move involving Eccles and Declan Courtney ended with Josh Mone's cool finish to the corner of the net and Our Lady's went back in front. Three late points from St. Pius X moved the tie into extra time at 0-16 to 2-10.
In the first half of extra time, Jason Duffy slipped a low shot under the keeper for a Castleblayney goal and Mooney added points put them four up.
But St. Pius X hit back with a goal, and added a point and once more the sides changed ends on level terms.
However despite a good start to the final ten minutes from St Pius X, Our Lady's finished stronger and Mooney's final pressure score edged a terrific game of football. At the end it meant Our Lady's advanced and means that they now get the opportunity to lift the first piece of silverware of the year, when they face off with Loreto Milford in a fortnight's time for the Irish News Cup. Best of luck to the boys in the final.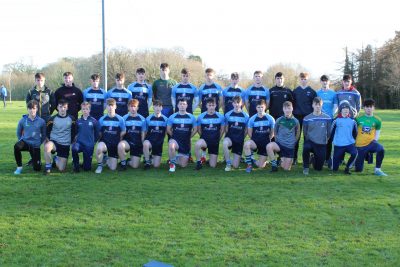 Our Lady's : Josh Mone (1-3), Conor Eccles (1-0), Jason Duffy (1-0), Stephen Mooney (0-12, 0-2 frees), Declan Courtney (0-1).
Our Lady's : Ciarán Duffy, Seán Hamill, Gavin McSkeane, Sean Callan, Shay Duffy, Darren McMahon, Joey Hughes, Rory McGlynn, Declan Courtney, Barry John Grimley, Conor Eccles, Jason Duffy, Jason Carragher, Stephen Mooney, Josh Mone
Subs : Eoin Gorman, Gerard Quin