What will I tell my grandkids?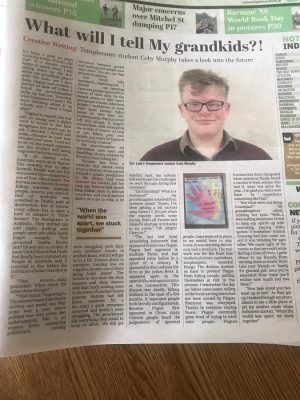 Congratulations to Coby Murphy, who's creative writing piece 'What will I tell my Grandkids?' was printed in The Tipperary Star. His piece takes place thirty years into future as he recalls Covid-19 to his Grandchildren. This is a fantastic piece of writing. We are also so very proud of Coby on this marvelous achievement.
Our Lady's Templemore Easter Newsletter
The Our Lady's Templemore Easter Newsletter is now available. This newsletter is packed full of articles from events which occurred in the school recently. Featured news includes Well Being Week, Seachtain na Gailge, Pilgrimage to Lourdes, Young Social Innovators, all the sports new and congratulations to school Traditional Irish Music band Corca Téine 2020 who reached the second round of Siansa competition.
Please click the link below to view: