FASHION SHOW A RESOUNDING SUCCESS
A fantastic showcase of fashion from local shops and boutiques was applauded by a capacity audience at our Annual Fashion Show on Thursday the 22nd of March. Our own Sports Complex was a wonderful venue for the event, transformed overnight from being a sports arena to a perfect setting for a catwalk. We congratulate all our models, students, parents, teachers and TY Art pupils, who bravely and elegantly showcased the very latest styles and fashion.We thank local shops for generous gift vouchers and sponsored prizes, Le Chateau, En Paris, BPerfect Cosmetics, Amphis Beauty, BiaBelle, Mondss and Anna Danielle Hair Salon. We would also like to thank Glasheens who sponsored the wine and Cooleeney Cheese who sponsored the cheese for this occasion. Thanks to Make Up Artist Heather Kelly and Lumatech – Simon Kerr Gleeson for transforming the venue (stage, sound and light). A huge thank you to our local shops, Hummingbird, Imps and Elves, Born Clothing, Uptown Girl, Pamela Scott, Morans Menswear, She, Fran and Jane and Sunflowers for supplying beautiful clothes for our models. As always we are grateful to our parents and friends who attended the Fashion Show, the proceeds of which go to our school development fund. Míle Buíochas.
CAMOGIE MINOR 'A' SEMI FINAL
Presentation Thurles 1 Coláiste Baile Chlair 2
Presentation Thurles travelled to Limerick on Wednesday the 21st of March to contest the 2018 Minor A All Ireland semi final against Connacht champions Coláiste Baile Chlair. The Galway girls had contested the Junior All Ireland final the previous week and their experience certainly told in the early exchanges as they set the tone with wave after wave of attack. Kate Cavanagh and Megan Quigley were superb in defence as they kept the Galway girls at bay. However as half time approached the breakthrough came and Coláiste Baile Chlair took the lead with a neat finish from close range. Presentation keeper Ciara O'Sullivan made a string of fine saves to ensure the margin remained at one. The second half saw a change of attitude from the Presentation girls as they took the game to their opponents and eventually equalised through a stunning free kick from Aoibheann Clancy. The tireless running from Missy Condon, Cally Dooley and Emma O'Sullivan was causing the Galway girls problems and Caroline Shanahan was winning the midfield battle. One lapse in concentration proved to be the difference as Coláiste Baile Chlair broke straight through the centre of the Presentation defence to fire home the winner. A combination of crossbar and post denied Presentation a late equaliser on a day where the Galway girls just did enough to get over the line. The future is certainly bright for soccer in Presentation Thurles with such an exciting young team.
DAFFODIL DAY
Many thanks to our 5th year Leaving Cert Applied students who sold daffodils to staff and students on Friday 23rd of March in aid of the Irish Cancer Society's Daffodil Day. The much needed funds will assist the society in providing care for those affected by cancer and our local Suir Haven Cancer Support Centre. We thank staff and students for giving so generously to this worthy cause.
THE SNAPPER
On Wednesday the 14th of March, Transition Year students put on a production of Roddy Doyle's The Snapper as part of the Holycross Schools Drama Festival 2018. Ailish Trayor and Laura Murphy took the crowd on a comedic journey through North Dublin in their roles as Dessie and Sharon Curley. It was a laugh-a-minute performance; and while, regrettably, they did not win best show, the leads received Best Comedic Performance and Most Promising Actress, respectively.
COCOA BROWN FUTURE LEADERS FORUM
On Tuesday 10th of April twenty eight Transition Year students traveled to Johnstown House Estate in Enfield Co. Meath where they attended the Cocoa Brown Future Leaders Forum hosted by Marissa Carter CEO of Cocoa Brown. Marissa was joined on stage by Gillian Fitzpatrick editor of Her.ie, Dr. Lisa Ellen creator of the Smart Needle and Emma Forsyth founder of Pilates Plus Dublin who each shared inspiring messages of resilience, tenacity and self-belief. The girls had a very interesting day and learnt a lot about entrepreneurship and the importance of self-confidence.
CHARITY TUG OF WAR
On Friday March 23rd our school held a whole school Tug of War tournament in aid of Spina Bifida and Hydrocephalus Ireland. Naomh Ailbhe, a 2nd year group, organised the event for their CSPE Action Project. It was meticulously planned and executed expertly. They drew up the match table, collected money and organised the logistics for participants and spectators alike. The sports hall was a medley of shouts and laughter, the crowning moment of the competition being the male teachers' embarrassing loss to the 2nd years. All the winning teams received Easter eggs that the girls bought on their own initiative. In the end, almost one thousand Euro was raised during the event. A fantastic achievement for these enterprising young women.
LEAVING CERTIFICATE ORAL EXAMINATIONS
Well done to our Leaving  Certificate students who completed their Irish oral examinations last week and we wish them the best of luck in their French and German oral examinations this week.
TY Trip to Kolkata with the Hope Foundation
The TY girls spent 7 days working alongside the Hope Foundation. They got the opportunity to visit the Hope Projects crèches, hospitals, boys homes and girls homes. Many friends were made along the way and it opened their eyes to the amazing work of the Hope Foundation. On the last night they celebrated their visit by wearing traditional sari's, learning Indian dances and getting henna tattoos. A huge thank you to their teacher Ms King and the parents who travelled with them.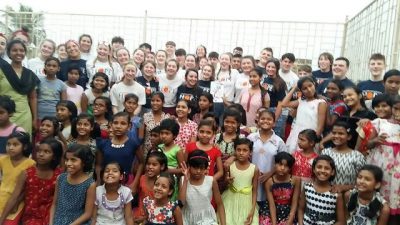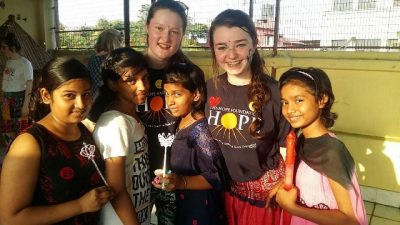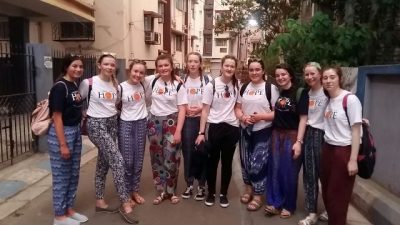 ALL IRELAND FOOTBALL FINAL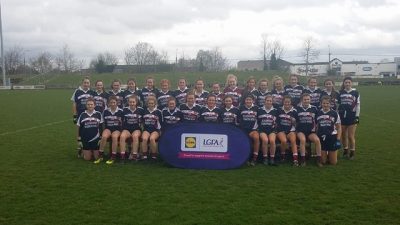 Glenamaddy C.S 5-13 Pres Thurles 2-7
Pres Thurles travelled to Balinasloe in Galway on Sunday to face off against Galway and Connact kingpins Glenamaddy in the 2018 All Ireland football decider. It was the Galway girls who set the early pace with two quick fire points but the ever reliable Casey Hennessy turned the game on its head with two stunning goals in the space of five minutes. Glenamaddy armed with a host of county players and players from their 2015 All Ireland A success were never going to panic and quickly regained the momentum. It was nip and tuck for most of the half until a critical five minute period before the interval. Pres Thurles conceded 1-3 in a two minute whirlwind where their kick out strategy malfunctioned. Glenamaddy headed for the shelter of the changing rooms with a four point cushion. The second half saw Pres Thurles chasing the game but every time they looked to wrestle the momentum back they were hit with a Galway goal. Glenamaddy ran out deserving winners on a day where everything that could go wrong went wrong for the Pres ladies. The management team of Barry Ryan and Cian Treacy were quick to remind the girls after the game of the wonderful heights they have achieved winning two Munster titles and an All Ireland title in the last two years. Captain Aoife Maher and her sixth year team mates depart the school leaving football in a better place and that's the ultimate accolade for any student.
Jnr CERTIFICATE BUSINESS STUDIES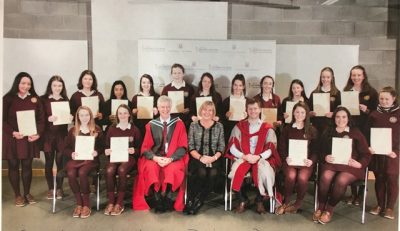 Congratulations to the Pres Thurles Business Department and the current Transition Year students who received A's in their Junior Certificate Business Studies. They are pictured in the University of Limerick at the recent awards ceremony.
Back row: Meabh Moloney Ryan, Leah Dwyer, Aoibheann Duggan, Mayesha Choudury, Katie Ryan, Aisling Prout, Mary Ellen Phelan, Emily Phelan, Katie Stapleton, Eimear Campion, Sarah Doheny, Helen Aherne, Bríd Hanrahan.
Front row: Sarah Johnson, Kate Sheridan, Dr Philip O'Regan (Dean of Kemmy Business School)Principal Marie Collins, Fergal O' Brien (Assistant Lecturer), Rachel McCormack, Kerry Browne.
AGRI AWARE FARM WALK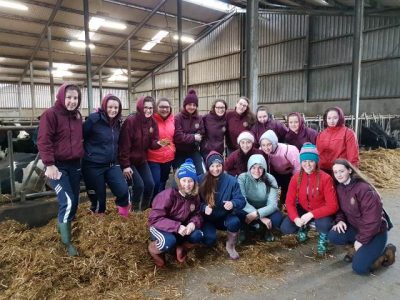 Pres Thurles TY and 5th Year Ag Science students are pictured attending Agri Aware's Farm Walk and Talk in Gurteen College recently. Thank you to their teacher Ms. Olivia O'Brien for organising this educational trip.
THANKSGIVING MASS
On Wednesday the 18th of April Fr. Niall O' Riordan visited our school. He celebrated a beautiful thanksgiving mass with our first, second and third year students. The girls were encouraged to give thanks for all that is good in their lives, such as family, friends, sport, music and good health. Prayers were also said for all those who will be sitting exams in June.
5th YEAR GERMAN FILM
On Wednesday last 18th April our 5th year students of German enjoyed a visit to the The Source cinema. Their language skills were tested as they were enthralled by the story of two teenage outsiders from Berlin, who embark on an eccentric road trip through East Germany during their Summer holidays. Our students could identify with some of the topical teenage issues and enjoyed the comedy-drama while being immersed in the German experience.
BASKETBALL NEWS
Well done to all First and Second year basketball players who took part in blitzes in Tipperary town, Ursuline Thurles and our school during the week. These were held in conjunction with Tipperary Knights basketball club and North Tipperary Sports Partnership. All venues were full of activity and enthusiasm and the girls thoroughly enjoyed themselves. First years were overall winners and Second years were runners –up and winners in their own tournaments. Well done girls.
CHALLENGE TO CHANGE
The Challenge to Change education development project took place in Kilkenny last week. Kate-Anna Mooney Ryan, Ava Murphy, Sarah Coady and Kate Laffan represented the school on this occasion to highlight the issue of homelessness.  The Transition Year students couldn't but notice that this issue is all around us – at a local, national and international level.  They interviewed and raised money for St Vincent de Paul, knitted hats for Focus Ireland and researched the topic on a global scale.  The girls were very convincing speakers and drew a lot of interest on the day from other schools.
CHILDREN OF THE DIGITAL AGE
 On Tuesday 24th April, James Neary from "Children of the Digital Age" gave tailored presentations to First, Second, Third, Transition Year and Fifth Year students during the day and met with parents that evening. The aim of the presentation was to create awareness of the online dangers faced by young people. Topics covered during the sessions were Screen Addiction, Geo Tagging, Passwords, Personal Information, Inappropriate content, Cyber Bullying, Phone Apps and much more. The feedback from students and parents was very positive and many left with the plan to change passwords, privacy settings, limit screen time and turn off the Wifi. The message was clear, the virtual world has real dangers so we must educate ourselves and our children to be safe on-line. Further information available on www.facebook.com/childrenofthedigitalage
GAELIC FOOTBALL
The Under-15 Gaelic Football team travelled to Rockwell on Thursday to compete in a Football blitz competition. With two competitive teams entered, it was a busy day. Both teams were up for the task and made it out of the group stages with convincing wins. Presentation Thurles contested two semi-finals in close encounters, with both teams dominating periods of the game.
Pres Thurles B dominated much of the first half but missed out on their place in the final by a single point. This can be attributed to a stunning display from the back lines, notably Emma Leahy in goal. Meabh Brennan and Cliodhna O'Toole took charge in the forwards, launching attack after attack.
Our A Team met a strong team from Loreto Clonmel. The teams fought a hard battle but after half time Loreto came out a revitalised side and really put it up to the girls culminating in Pres Thurles missing out on their second final of the day. Impressive performances by Rachel Moore, Enya Maher and Caroline Shanahan. Well done to all involved.
ATHLETICS
Congratulations to our athletes, who competed in the Secondary Schools Track and Field County Championships which took place in Templemore on Wednesday 25th April. With over 500 athletes taking part, the Championships proved to be a great success for the girls despite the wet and blustery conditions on the day. Well done to our intermediate team who took gold in the event; this team consisted of Ellen Moore, Rachel Moore, Megan Crosby and Katie Bergin. Lola Bedia won a silver individual medal in the 100 metres hurdles. The senior relay team were very close to clinching gold, but were nipped just at the line and had to settle for silver for this event. The senior team was: Amy McGovern, Casey Hennessy, Isabel Finlay and Molly O Connor. Molly and Isabel came second and third in the 100metre finals, while Siobhan Carroll won bronze in the 800 metres event. In the field events, Katie Bergin won gold in the intermediate long jump and Fiona Hennessy won two gold medals and a silver in shot put, hammer and discus respectively. The girls will now compete in the East Munster Schools Championships on Tuesday 2nd of May. Well done to all our athletes.
RUGBY
Congratulations to 6th year student Dorothy Wall who has been chosen to captain the Ireland U-18 rugby sevens. She travelled to France this week to take part in the Youth Olympics. Dorothy certainly has a bright future in the world of rugby! Congratulations Dorothy.