PRESENTATION THURLES ENJOY LEAVING CERT SUCCESS
Wednesday the 15th of August finally arrived. The waiting was over. The Leaving Cert results were here and amid squeals of delight, nervous laughter and anxious faces, the brown envelopes were opened. Tears of relief were shed as students delighted in their excellent results. Twenty-five students got over 500 points. The national average was 13%, our average was 22%. Forty students got over 450 points. The national average was 25% and our average was 36%. We have surpassed all national averages.
We offer congratulations to the girls, to their parents for the support they've given them during their secondary school years and a huge thanks to their teachers for their hard work and encouragement especially during the past year. We wish our students all the best as they embark on the next stage of their education. "Mól an óige agus tiocfaidh sí".
DEBS NIGHT
Following on from their great success in the Leaving Cert examinations, the girls returned to the school on the 23rd of August to be presented with their certificates of achievement and meet their teachers before continuing on to the Anner Hotel for the "Debs Ball". The style was fantastic, the girls looked beautiful, unrecognisable out of uniform ! We would like to thank the Anner Hotel for the lovely meal and the warm welcome they afforded our school.
RETURN TO SCHOOL
School is now officially "up and running" and we would like to welcome back staff and students and in particular extend a warm welcome to our first years and to the international students who will be joining us for the coming year. On Tuesday September 25th we celebrated our opening school mass in the Cathedral Thurles. The theme of our mass was "Care for the Environment". A prayerful tone was set by our school choir who sang as students entered the Cathedral. Pope Francis' invitation to care for the earth was extended to all our students who are being encouraged this year to care for the environment. Our school chaplain Fr. Vincent Stapleton highlighted the theme wonderfully throughout the mass and especially in his homily. We were reminded that the biggest threat to our environment is the belief that someone else will fix it and the students were urged to be active stewards in taking care of the earth. There was an atmosphere of prayerfulness and reverence which culminated in our uplifting recessional hymn. Many thanks to all involved in preparing for the mass.
WORLD MEETING OF FAMILIES
On Sunday 26th August a group of sixth year students accompanied by their teachers attended the Papal mass in the Phoenix Park. The four a.m. start did little to dampen the high spirits and anticipation of the group. On arrival, the girls, and their teachers were assigned as official umbrella carriers to the Eucharistic Ministers but on the day they did so much more. As well as soaking up the wonderful atmosphere, getting to see Pope Francis at very close quarters, singing and praying, the girls found time to help countless pilgrims. They were on hand to show people to the correct sections, assist the elderly and help people find first aid tents. The girls showed how responsible, mature and reverent they could be. It was a once in a lifetime opportunity and many of the girls have wonderful photos of Pope Francis along with special memories of the day.  We thank the teachers who accompanied them on this trip.

JUNIOR CERT RESULTS
A huge congratulations to all our TY and 5th year students who received their results on Wednesday. The results were outstanding and TY student Aoife Dunphy received an exceptional 10 A's. We are very proud of all our students and the work they put in over the year. A big thank you to all our staff and to parents for their continued support.
JAKE VISITS PRES THURLES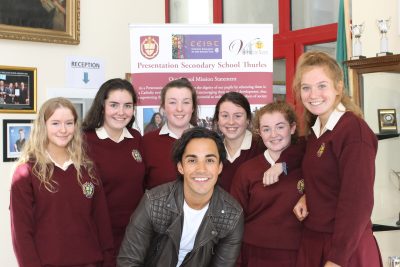 Jake Carter recently visited the Pres Thurles where he performed for our students. Included in the photo are 6th year students Sarah Foley, Nicole Gleeson, Kathryn O'Meara, Molly O'Connor, Eimear McLoughlin and Amy McGovern.
NATIONAL OLYMPIAD COMPETITION
Congratulations to Transition Year student Aoife Dunphy who has been selected to take part in the National Olympiad competitions in DCU in October. Aoife was selected as a result of her high achievements in her Junior Cert Maths and Science exams. The students selected at the National Olympiad will represent Ireland in the International Junior Science Olympiad in Botswana in December. We wish Aoife the very best of luck.
TRIP TO DELPHI
Transition Year students kicked off what is certain to be a wonderful year with a trip to Delphi Adventure Centre, Co. Mayo. On Sunday 9th of September last one hundred and ten students headed for the award winning adventure centre, set in the rolling hills of rugged and gorgeous Connemara. Over the following two and a half days the girls enjoyed a wide variety of water and land activities including surfing, kayaking, rock climbing, high ropes, tunnelling and team
challenges. The trip allowed the Transition Year students to interact in a setting outside the school environment while at the same time conquering their fears and challenging themselves with new experiences and stepping outside their comfort zone. Everyone thoroughly enjoyed the trip and we look forward to the year ahead.
BASKETBALL NEWS
It was mixed fortunes this week with Basketball in Presentation Thurles. First up was our under-16 cadette game on Wednesday last when Presentation Bandon travelled to Thurles for round one of the cup. The first two quarters were nip and tuck with neither team really imposing themselves on the game. At half time it was a one basket game and all to play for. Some great defence from the home team saw them take charge of the third quarter. This dominance was not put on the  scoreboard however and Bandon saw the game out the stronger, winning on a score line of 22 points to 28 points.
The senior team had an away draw against St. Mary's College Naas in the first round of the Subway All Ireland Schools Cup Competition. Despite a few early
nerves, Presentation soon composed themselves and began to take control . The girls dominated the first half and were leading by 38-14 at half time. Presentation continued to put points on the board throughout the second half most notably led by Anna Dunne who scored 20 points.Tasha Tully also scored
two great 3-point scores. Overall this was a great team performance and Presentation stayed focused until the end and emerged winners by 69 points to 34 points.
HIGHER OPTIONS COLLEGE & CAREERS CONFERENCE 2018
Our Leaving Students attended the Higher Options Careers conference at the RDS Dublin on 13th of September. This was a great opportunity for our students to seek information on choice and entry procedures to Irish and UK and European higher and further level institutions, PLC's, apprenticeships and opportunities in the public service. Over 180 universities, higher education colleges, further education colleges, admissions and professional bodies, HEAR and DARE and Gap Year organisations were represented. There were career talks on Art and Design, Science, Engineering & construction, Social Services, Agricultural Science and Nursing and Midwifery. There were also lectures on the CAO, Studying in Europe, Oxford and Cambridge entrance procedures and the SUSI grant system.
FRIENDS FIRST INITIATIVE
This month saw the beginning of a new school year, and for our Transition years that means the commencement of a series of wide and varied programs. One of these programs, now in it' 3rd year, is our "Fastfriends" initiative, in conjunction with Scoil Aonghusa, Cashel. This programme is designed for our students to interact in a Physical Education environment with students of approximately the same age group with Special Educational Needs. Week one has been a great success with learnings, laughs and emotions experienced by all involved with creative and positive feedback – which are key aspects of the program. An emotional moment this week was when a student from Scoil Aonghusa taught a Presentation student "Lámh" (sign language) to aid with their interactive communication. This project has a very positive impact upon student of both schools and the community, with lasting friendships formed, and further demonstrates how benefits, learnings and communication can be achieved in a Physical Education environment between the students from both schools.
NEW MULTI PURPOSE ASTRO TURF PITCH AND RUNNING TRACK
The new multi purpose Astro turf pitch and running track was officially opened recently. A huge thank you to our Principal Marie Collins and Martin Hehir for all their hard work over the past two years. After encouraging speeches from past pupils and International Basketball stars Grainne and Niamh O'Dwyer, the facility was blessed by Archbishop Kieran O'Reilly. Champion athletes and past pupils Avril Deegan and Sorcha Moloney got the opportunity to run the first lap of the track and this was followed by great photo opportunities for our Athletes, Hockey and Basketball teams as well as our Munster A Camogie Champions, Munster B Football Champions, Munster Minor Soccer champions and our All Ireland winning A Soccer Champions! We are delighted to see so many of our students training hard on the new pitch every evening and are excited for our sporting year ahead.