Achievements Day
A wonderful afternoon was had by all for the school's annual Achievements Day on 16th May. There was a huge array of achievements from attendance, Student Council, Mentors, art competitions, sports and music awards to name but a few! The CEIST student award was presented to Mercy Okojie, 6th year. Mrs Mac Cabe also presented the Student of the Year award to 6th year student Sinead Horkin.   Sports Star of the year Award went to TY's Maeve Gallagher. We were entertained throughout the afternoon with a variety of musical treats from choirs, traditional groups and various soloists.
Soroptimist Power of Women Conference
In association with Soroptimist International Castlebar and TY students from Davitt College, four students from St. Joseph's: Chloe Kerins, Chloe Moran, Clódagh Ryan  & Aoibhinn Kennelly (see photo) organised a Female Empowerment Conference for our TY students. A fantastic day was held in GMIT where the students heard inspirational stories from adventurers, engineers, doctors, entrepreneurs, sports stars and many others. They learned about resilience, motivation and positivity and even learned how to Salsa! A big well done to the organising committee and all who took part!
Teaching Lessons on and off the Sporting Field
Teacher Lorraine Carey has established herself as one of the best in her field after capturing gold in Powerman Long Distance Duathlon World Championships in Switzerland. Click the link below to read full article. The Western People – Lorraine Carey
The GLOBE Project
For 8 weeks in March & April, Mrs McGrath's second year Geography class has a unique opportunity to participate in the GLOBE (Global Learning & Observations to Benefit the Environment) project.  This is an international science & education programme that provides students with the opportunity to participate in data collection which is used by scientists worldwide, including NASA.  The girls worked on collecting aerosol levels (pollution particles) and observing clouds.  The data was added to a worldwide database and the data was verified by an orbiting french satellite which flew over our collection site daily.  At the end of the collection period, students had to submit a project using their data and data collected from other schools across the globe.  From the 20 schools involved in Ireland, 3 schools were selected to represent Ireland at an international conference in Killarney in July.  From the class three students and Mrs McGrath will present their project to an international audience.  Well done to all involved and enjoy the experience!
Green Schools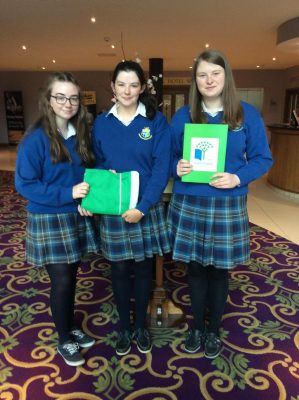 We are proud to have successfully received our 8th Green Flag this May. The theme for the past two years focused on the marine environment.  St. Joseph's is the only secondary school in Mayo to have achieved this 8th flag and one of 6 nationally. Well done to our TY Eco class and Mrs. McGrath on a  tremendous achievement for our school.
Wild Words Childrens's Book Festival
Congrats to Lynn Rochford whose story Smart Smarter Smartest has been selected for inclusion in Vol. 6 of Wild Words – a publication for teenage writers that forms part of the Wild Words Children's Book Festival which will take place in Carrick on Shannon at the end of June.  As a selected contributor to the book, Lynn will also have the opportunity to take part in a two day masterclass programme with award winning authors Colm Keegan, Dave Rudden & Anna Carey.  Well done to Lynn and her teacher Mrs. Lavelle.
West of Ireland Mini-Marathon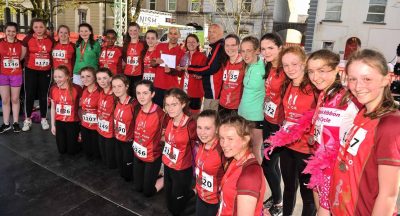 This year 120 students, from 1st to 6th year, and teachers took part in the 10k mini-marathon on the May Bank Holiday weekend. We decided to fundraise by holding a 'Wear Pink Day' in the school and we have recently presented a cheque to Rock Rose House.  We are delighted to have won the 'It's For Girls' competition organised by Mayo Sports Partnership for having the highest percentage of students over 12 years of age take part in the mini-marathon. This is our 3rd year to win the trophy. Well done to Maeve Gallagher who took 3rd place on the podium on the day. Thanks to Mrs. McGrath for encouraging us to take part in the 10K.