Sport
Silver for St. Mary's in Murray Cup
On Thursday 18th of January, two teams consisting of fifth year girls from St. Mary's Secondary School is Macroom, travelled to UCC to compete in the annual Murray Cup. This is an ultimate Frisbee tournament that welcomes teams from all over Ireland.
This year our teams played against teams from Skibbereen Community School, St. Angela's College, Coláiste Choilm , John Scottus and Muckross College. After a busy and exciting day of frisbee, our teams placed 5th and 2nd out of the 10 teams that were taking part.
The girls that played in the final were beaten by a very tough and successful Muckross College from Dublin. Muckross were the reigning Murray Cup champions and they boasted an Irish team member as well as two Dublin county players. Our girls were thrilled to get so far in the tournament and the organisers commended them on their fair play (an integral element of the game) and their ability.
Basketball at St. Mary's
Congratulations are also extended to the U16 Basketball team who won all 3 of their games in the All-Ireland playoff series in Tramore last Saturday. They have now qualified for the All-Ireland Semi-final on 31st January against Jesus & Mary Secondary School, Enniscrone Co Sligo. St. Mary's Abú! !
Football at St. Mary's
St. Mary's Senior Football team had a great win over St. Anne's Tipperary Town recently. As a result of this win St Mary's now have qualified for a Munster Semi Final which will be played in the coming weeks against Ennis. Unfortunately our Junior football team was were knocked out at the Munster quarter final stage by a very strong Mercy Mounthawk Tralee team in appalling weather conditions in Cill na Martra. The girls put in a very brave performance but succumbed to a more seasoned outfit. Scoil Mhuire Abú!
Young Scientists
Congratulations to the 18 students from 2nd and 4th year that represented the school so well at this years BT Young Scientist competition recently. Three of our projects received highly commended recognition from the judges. Great thanks are due to their teachers for all the effort that was involved in preparing and guiding the students over the past few months.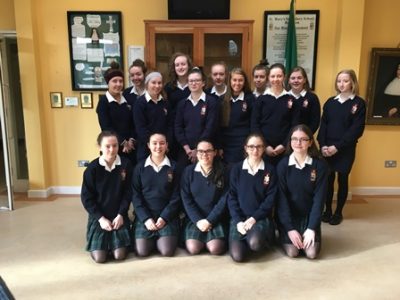 I WISH Programme
Transition Year students will be attending the I WISH Conference in City Hall, Cork on January 25th. I WISH is an initiative to inspire, encourage and motivate young female students to pursue careers in STEM.
I WISH (Inspiring Women in Stem) features a conference and interactive exhibitions. The conference also feature workshops, daily keynotes and engaging talks by women (including past pupils of the school)and men who have seen the opportunities for a great career in STEM.
Religion Department
Students from St.Mary's contributed letters and poems to the annual Diocesan Magazine 'Searching'. Leaving Cert students, Kate Brady and Rachel McCarthy had articles printed as did many other second and fifth year students. This writing endeavor allows students to present their opinions on church life in a formal way. St. Mary's school contributed the most articles in the diocese with Carolyn O'Donovan, fifth year, receiving a prize from Fr. Gerard Condon, the Diocesan Advisor. Well done to all who contributed.
St Vincent de Paul
Our annual St. Vincent de Paul Food Drive took place on Wednesday, November 29th where we as a school community turned our attention to helping people in need in our locality. The Religion department would like to thank our 5th year students for organising this year's event, it was hugely successful. A big thank you to all the staff, students and their families for donating food items to this worthy cause. Your support as always is greatly appreciated.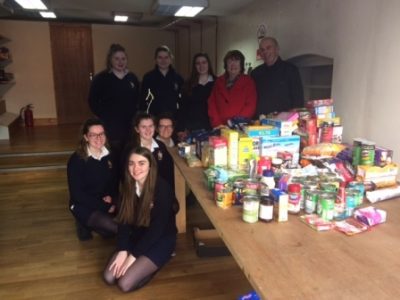 Ciorcal Cainte
Cuirtear an béim ar labhairt na Gaeilge anseo sa scoil mar tuigimid is tré labhairt na Gaeilge a fhorbraítear an teanga. Is ar an gcúis seo go neagraítear Ciorcal Cainte. Freastalaíonn lucht na séú bliana ag am lóin uair sa tseachtain. Bíonn tae, caifé, brioscaí, caint agus craic ar fáil ann. De réir a chéile tagann feabhas ar chumas na gcailíní. Baineann na cailíní an taitneamh agus tairbhe as an sos seo a ghlacadh i lár an lae. Cuireann an gCiorcal Cainte seo le marcanna na hArdteiste. Daltaí blain a sé le Norma uí Chathmhaoil.