Third All Ireland Win for St. Mary's Secondary School Macroom with Spacesavers Bank!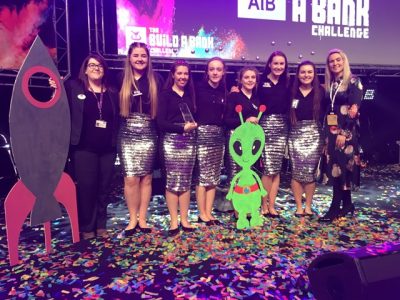 THEY'VE done it again.
The School Bank team from St Mary's Secondary School – Caoimhe Moynihan, Hanna O' Donovan, Miriam Murnane, Katie Sheehan, Jessica Buckley and Savannah Hickey with their Business Studies teacher Arlene O' Donoghue and AIB Student Officer Eleanor Dunne have won the All Ireland of the AIB Build a Bank Challenge 2018.
The students from St Mary's Secondary School Macroom have won the top prize of €5,000 and €250 each at the AIB Build a Bank Challenge competition beating opposition from 138 Schools from all over the country.
The school has an absolutely amazing record in this competition, they have WON the competition 3 times – in 2010, 2012 and now again in 2018 and they came 2nd in 2009.
The final took place in The RDS on Wednesday the 21st of March with 48 winning School Bank teams from each of the Regional Finals around the country taking part.
The AIB Build a Bank Challenge sees a team of six students – selected to set up and manage a bank in the school, getting involved in everything from sourcing new customers and opening AIB accounts to encouraging regular savings and exploring new ways to bank, such as AIB Phone & Internet Banking. St Mary's Bank this year is based around a Space/Astronomy theme, with their Slogan – "Taking your Savings out of this World!"
The Build a Bank programme links directly to the Business Curriculum and is an excellent, practical preparation for learning about running a business.
Business Teacher Arlene O Donoghue says that "Taking part in this competition is extremely beneficial to the students as they learned : Presentation Skills, Business Plan Development, Marketing Techniques, Leadership and Teamwork, Digital Innovation, Customer Relationship Management, Interview Experience and Finance education. Having a saving facility in the school is a huge benefit to the entire student body, as having a bank on site introduces students to the world of banking and encourages them to plan for their future by developing sound money management skills."
At the National Final, the girls had to deliver their 4 minute presentation on stage followed by 6 minutes of gruelling questioning from 3 Judges. The girl's standard of answering amazed everyone in the audience. They answered the Judges questions with confidence and excellent professionalism. They were an absolute credit to themselves, to their School and to their Parents.
6 teams were then shortlisted for the Final Stage Show where the girls had to deliver their presentation again, this time in front of the 3 Head Judges and an audience of over 700 people.
Finally, once all of the Judges deliberations were complete Spacesavers Bank were crowned worthy winners.
"They worked so hard on this project. They worked really well together as a team and were really innovative in their ideas for their Bank", Arlene O' Donoghue added.
The girls would like to take this opportunity to thank all of their sponsors from the locality. They would especially like to thank their Business Teacher Arlene O' Donoghue and also Eleanor Dunne from AIB Macroom who worked so hard with them during this competition, mentored & supported them, believed in them and motivated them to succeed.
Huge Congratulations to all involved!!!
Careers and Course Evening
A warm welcome is extended to all those in the Macroom community who might be interested in a careers and course evening in St. Mary's Secondary School on Thursday next, April 19th from 7pm-9pm. Representatives from Universities, Colleges and ETB schools offering third level courses, as well as over 50 past pupils studying and working in a wide range of careers and courses will be in attendance. This has proved to be a very informative event for the school community in the past.Students and parents from other schools are very welcome to attend.
Fundraiser
A fundraiser for St Mary's Secondary School, Macroom will be held on Friday, April 27th at 8pm in the Castle Hotel. Lorraine Costello, a well-established cake decorator and Eileen O'Brien, a well-known floral artist from Kinsale Garden and Flower Club will both be demonstrating on the night. It should prove to be a very enjoyable evening. Tickets €20 can be bought from the school office (026) 41544 or the Castle Hotel (026) 41074.