CHRISTMAS DAY IN ST MARY'S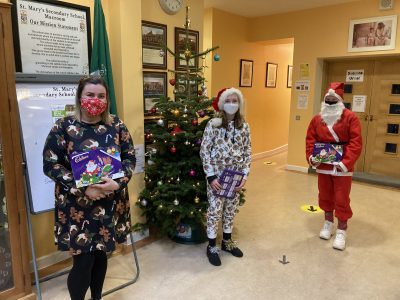 We celebrated Christmas Day in St Mary's in a slightly different way this year. All classes watched a Virtual Carol Service in their classrooms followed by a fun Table Quiz. Santa and his Elves visited each classroom, informed the girls that they were all on the nice list and gave them all some sweets to enjoy.  There were prizes for the best Christmas outfits, the winners were Ms Foley (Best dressed Teacher), Rachel Bradley (Best dressed Junior) and Carol Ann Casey (Best dressed Senior Student).  There was a Charity Raffle, all proceeds from the raffle are going to Fr John to help the homeless.  The girls raised over €250 for Fr John and they were delighted that the winner of the raffle was Trish.
Trish cooked a fantastic Christmas Dinner for all of our Leaving Certs. Thanks so much to Mrs O Donovan and the Student Council (Marion Creedon, Fey Healy, Rowen Moore, Marissa Duarte, Niamh Deasy, Niamh Murray, Leanne Healy, Gemma Monroe, Rachel Bradley, Geraldine McCarthy, Emily Cronin, Eugenie Kelleher, Saoirse Twomey) for organising the day's activities, we had a fantastic day.
IRISH DEBATING
Bhíomar an gnóthach le déanaí ag déanamh taifid do chomórtas oráidíochta Gael Linn.  Maith sibh a chailíní.  Sár-obair déanta agaibh.  Go n-éirí go geal libh leis an gcéad bhabhta den chomórtas seo.
We were very busy recently recording for the public speaking GaelLinn competition.  Well done girls! Great work done over the past few weeks.  Best of luck in the first round of the competition.  Thanks to Ms Queally for preparing the girls for this competition.
Junior Team:
Aoibhe Kelleher
Cara Moloney
Anna O Mahoney
Senior Team:
Aine Sheehan
Abigail Kelleher
Sadhbh Bourke
CAMOGIE TRAINING
We are delighted that Camogie training has started again for our girls. Huge thanks to Ms McSweeney and Liam Slattery for giving their time to train the girls. Training will continue on Wednesdays from 1.30 – 2.30. All girls welcome.
CONGRATULATIONS ERIKA
Cork are back in an All-Ireland decider on 20 December against old rivals Dublin.  Well done Erika you are unreal, we are so delighted for you.
#THINKLANGUAGES
#ThinkLanguages is an initiative to help students to discover a world of languages and cultures in school. This initiative invites all students to celebrate all the fun and benefits of foreign language learning. Our TYs delivered a presentation to first years as part of ThinkLanguages which celebrated foreign language learning.  Well done girls, you gave fantastic presentations and promoted the importance of languages very well.
VIRTUAL CATHERINE MCAULEY AWARDS
Our Virtual Catherine McAuley Awards went live on our Social Media on Friday the 11th of December.  Congratulations to all of our award winners. Thanks to Elaine Lynch and Arlene O' Donoghue for organising this event. Thanks to Emma Lynch Photography and to John O' Sullivan Videography.
PRESENTATION OF JUNIOR CYCLE PROFILE OF ACHIEVEMENT AWARD
Our Transition Years had a lovely day of celebration on Friday the 11th of December to celebrate receiving their Junior Cycle Profile of Achievement awards.  They watched a Christmas Movie, had a surprise Sweet Trolley and Hot Chocolate.  Thanks so much to Ms Collins and Ms Donovan for helping the girls to organise this lovely occasion to mark the end of their Junior Cycle.  Congratulations girls.
INFORMATION FROM TWO OF OUR BT YOUNG SCIENTIST PROJECTS
Brigín Kelleher got thinking during lockdown about how some children might be at a disadvantage learning from home if their parents were working. Her project is titled "Stay at home mothers vs working mothers. How are their children raised?"
Brigín's project aims to find out if there is a difference in children's values, gender stereotypes, behaviours and attitude towards education in children raised by stay at home mothers vs working mothers.
Ava Ronan and Ruby O' Shea's project is titled "Does music effect your heart rate while sleeping?". The girls both have an interest in music and also wear smartwatches that help track sleep, steps and heart rate among others. They wondered if you listen to music while asleep will this have an effect on your heart rate. The girls will be carrying out their experiment on number of participants and it will involve a variety of music genres e.g. pop, rock, jazz, country and classical.
Best of luck with your projects girls!