Well done to Fifth Year students from Presentation College Carlow who received their Pope John Paul II Gold Award recently. The Award is committed to helping young people enhance their spiritual, physical, emotional and social development through participation in school, parish and community activities. As well as the feeling of personal achievement that these participants have gained from taking part in the Award, participation has helped demonstrate these young people's commitment to a task and goal.
Presentation College Carlow are extremely proud of the dedication and commitment that these students have shown throughout their participation in the Award.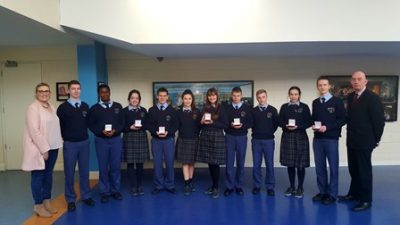 Pictured left to right:
Georgina Maher ( R.E. Teacher ), Tadhg Downey, Obaro Agabi, Aoife Whelan, Kirill Fennelly, Amy Byrne, Shannon Young, Oliwier Dulawa, David Lalor, Meadhbh O' Sullivan, Daniel Pender, Mr. Ray Murray ( Principal ).