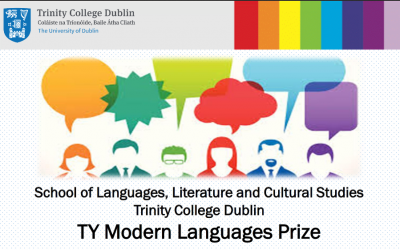 CEIST SCHOOLS PERFORM MAGNIFICENTLY!!
Trinity College Modern Languages TY Competition
In an increasingly interconnected and multicultural world, advanced language skills and intercultural competencies equip students for a wide variety of careers as well as giving them a distinct competitive advantage. Furthermore, language competence is one of the biggest skills gaps in the Irish labour market and language graduates are highly sought after in a variety of sectors. This is recognised in Ireland's Strategy for Foreign Languages in Education: 'Languages Connect'. With this in mind, Trinity College's School of Languages, Literatures and Cultural Studies (SLLCS) launched a competition for TY students in 2019/20. The aim of this competition was to encourage creative and critical thinking amongst TY students about why they would like to become fluent in a particular language as well as why they would like to learn about the culture and literature associated with the language. Students were asked to record a podcast and design a poster. The competition attracted an enthusiastic response from a large number of secondary schools and the judges had the difficult task of shortlisting and picking the winning projects.
The Head of School of Languages, Literatures and Cultural Studies, Dr Anne Fitzpatrick, commented on how impressed the School and College has been by all the entries and commended our second level colleagues for their dedication and commitment to their students during this exceptionally challenging time.
Trinity College Vice-Provost/ Chief Academic Officer and Chair of German Professor Juergen Barkhoff warmly congratulated the winners of the SLLCS Modern Languages Transition prize and commended this great initiative: "Gaining fluency in another language while getting to understand the people who speak it and their cultures is a one of the best ways of opening the mind and the heart and to see the world with different eyes. In today's globalised world and the post-Brexit times we live in competence in languages is a key asset for rewarding international careers and for Ireland to stay connected, prosper and maximise its opportunities as an economy, society and culture."
Finally, the judging panel member and School alumnus Gavin Radford spoke of the importance of language knowledge and intercultural communications: 'Studying another language, and its literature and culture, not only leads to fluency in the language, it also opens your mind to different ways of working, and improves your overall communication skills. Bilingual people are used to switching between two languages and being able to adapt to different /cultural scenarios – skills which are transferable across many sectors and can be particularly useful if you are managing a role with competing priorities! From my own perspective, I make practical use of my degree in French and Spanish from Trinity every day. After my degree I worked abroad for a couple of years, and I am headed to Paris in the summer to take up a post at the Irish Embassy.'
CEIST would like to congratulate all the TY pupils and secondary schools that took part in the competition. The Trinity College panel were delighted with the enthusiasm and the creativity. We are extremely proud to say that three of the winning teams this year came from CEIST schools.
All the winners were contacted and all shortlisted and winning teams will be invited to an awards reception on Trinity College campus in the new academic year. Winning entries will be made available to see and hear on https://www.tcd.ie/langs-lits-cultures/ over coming days. We have listed all CEIST winning teams below. Congratulations to all on a such a fantastic achievement.
Presentation Secondary School, Thurles, Co. Tipperary
Language: Irish / Gaeilge
Team Name: Call Me Irish
School: Presentation Secondary School, Thurles, Co. Tipperary
St Joseph's Secondary School, Castlebar, Co. Mayo
Language: Russian
Team Name: The Language Ladies
School: St Joseph's Secondary School, Castlebar, Co. Mayo
St. Joseph's College, Lucan, Co. Dublin
Language: Irish / Gaeilge
Team Name: Group Five
School: St. Joseph's College, Lucan, Co. Dublin
Official Prize Winners Announcement from Trinity College Dublin