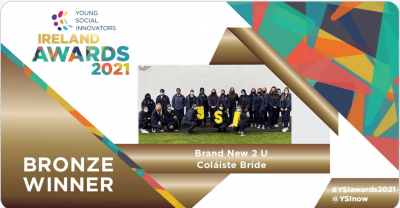 Congratulations to all involved in YSI Awards 2021 but special mention to CEIST schools.  We are so proud to see two of our own schools announced successful in the top three awards:-
Mercy Secondary School, Mounthawk, Tralee were crowned overall winners of Young Social Innovators of the Year 2021 for their ground-breaking 'Red Flags 'Break the Silence' project, which aims to tackle the issue of toxic relationships whilst encouraging young people to openly discuss relationships in a safe environment.
The Red Flags 'Break the Silence' team also were successful in receiving the Digital Innovators Award, supported by Virgin Media, for addressing online safety and wellbeing amongst young people.
Coláiste Bride, Clondalkin were honoured with the Bronze award for their 'Brand New 2 You' project. The project team's focus was on sustainable and ethical fashion and raising awareness amongst their peer group around the impact that fast fashion has on the planet. Working closely with Ireland's National Sight Loss Agency (NCBI), the students' overall aim was to introduce Ireland's first #BrandNew2U week which would see schools participate to promote sustainable and ethical fashion. For the awareness week, the group hope to coordinate the first sustainable fashion show, up-cycling workshops, and decorate NCBI shop fronts with the intention of recruiting additional schools and charities in the coming years.
Other CEIST Award winners include:-
Make our World a Safer Place                                           Colaiste an Chroí Naofa, Carrignavar
Make our World a Healthier Place                                  Eureka Secondary School, Kells
Make our World more inclusive and poverty free     St Leo's College, Carlow