Wear What You Wish!
Well done to the Transition Year students who organised a fundraiser for the "Make A Wish Ireland" Children's Charity. They held a No Uniform day, entitled, "Wear What You Wish" and a Teacher Coffee Morning. They managed to raise over €1,100. The money will go towards granting wishes for terminally ill children in Ireland. Well done to all!
YSVP Regional Youth Day
On Thursday, 26th April, the Young SVP committee, The Aloysius Foundation from Presentation College attended the YSVP Regional Youth Day in WIT Arena. The students displayed the activities they undertook throughout this past school year and they performed a song to the crowd of other young SVP committees from all over the South East. Whilst there, students enjoyed the festivities and the stage presentations made by the other groups. It was a great chance to mix with other schools through games, activities and random acts of kindness between paired schools. Many new friendships were formed and inspirational stories were heard. All had a great time and students look forward to continuing the great work of SVP into the future.
Student Council Launch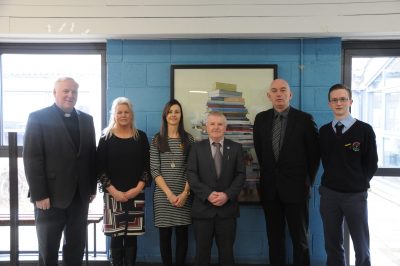 The pupils at Presentation College, Carlow were delighted to officially launch their Student Council on March 23rd.  The students welcomed special guests, Senator Jennifer Murnane O'Connor, Fr Conn O'Maoldomhnaigh, Chairperson of the Board of Management and Mr Gerry Watchorn, Ceist Co-ordinator.
After the official launch, all 800 students and staff in our school, gathered outside to spell 'Student Voice' as a drone flew overhead and took a photo.  This project came to its successful conclusion following much practice of a veritable army of teachers and students to perfect!  This was to highlight the important role students' play in the development of our school, with teachers underlining its significance.  The results were fantastic and are a sign of the Student Council's success to date!  Aside from this, they include launching three consultations with students, pushing for change in phone and test policies, and joining the Irish Secondary Level Student's Union.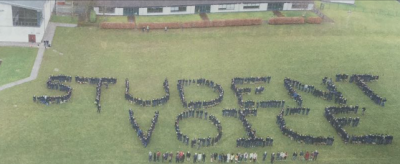 Chairperson of the Student Council, Dan Pender, said: 'In recent years the student voice wasn't quite as loud as it is today, we are now formally represented and we have brought about great changes in the school already and it is only our first year!'
The Student Council was re-established this year with elections from every class, followed by executive officer elections within the council. The entire process has been well stewarded by Ms Cadinot, Student Council Liaison officer who took up the project this year.
Written by Daniel Pender, Chairperson of Student Council, Presentation College, Carlow.
RTÉ Trip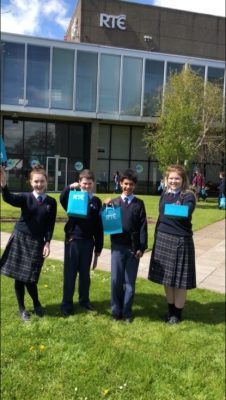 Four students from Presentation College enjoyed a visit to the RTÉ headquarters in Donnybrook, Dublin on Wednesday May 3rd to take part in the School Digital Champions competition. The students, Doireann Broderick (Second Year), Meadhbh Broderick (Transition Year), Michael Deyassa (First Year) and Eoin Walsh (First Year) got a tour of the on-site sets as well as a talk about MOJO, mobile journalism. The students were among students from four schools in attendance.
Voter Registration Drive
A voter registration drive was held recently in Presentation College. Over ten students were registered on the final day for registration – 8th May. Two students, Emma Dooley and Beth Hartford worked on the stand and the initiative was supported by the Student Council. The Student Council Chairperson, Dan Pender said: 'It's important to get young people engaged in politics, and registering them to vote is the first step. The Student Council wishes to encourage everyone who can vote to use their vote on 25th May.'
CPR 4 Schools Programme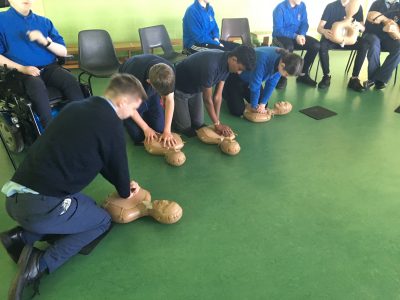 Well done to our Transition Year students who recently completed the 'CPR 4 Schools' CPR training programme with Ms Thornton. Students involved learned about the theory of CPR, how to perform hands-only CPR and they also had the opportunity to practice hands – only CPR on mannequins provided by the CPR 4 Schools programme.
The mission of the CPR for Schools programme is to affect positive change in the lifestyles of Irish people, to achieve better outcomes for those affected by heart disease and stroke and to challenge when the health of our nation is put at risk. They seek to empower people to live longer, healthier lives. Well done to all involved for taking the time to participate and learn such an invaluable life skill.
Presentation College Awarded Green Flag for Litter and Waste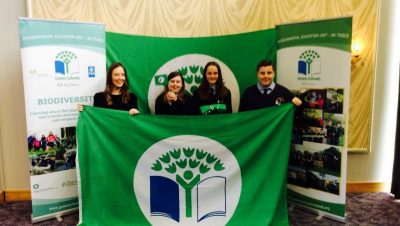 Congratulations to the team of staff and students who worked tirelessly on many projects to ensure that Presentation College achieved Green School status. At a ceremony in Kilkenny recently, Ms. Barrett and three students collected the flag. Following a party for the Working Committee we raised the flag.
We are looking forward to providing our incoming First Year students with the opportunity to join our committee. Being selected for the committee provides students with an opportunity to get involved in the school, to make new friends, to use their talents and to develop their leadership skills.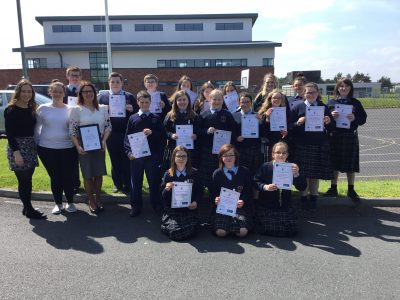 At Presentation College we have a Working Committee made up of First Year students with some Second Year students. This committee meets every week. As students move through the school they may be selected to join the full committee which plans, advises and supports the Working Committee where required.
You might like to follow our progress on Twitter @PresGreenSchool where you will find more photos and information.