Our Lady's Castlebalyney 5K Run/Walk Against Suicide
The town of Castleblayney came to a standstill last Tuesday 1st May when 700 plus people decided to go for a walk/run and their message was 'It's OK not to feel OK and it's absolutely OK to ask for help'. This group of people, many of them bedecked in vivid orange colours were students, staff and parents of Our Lady's Secondary School. Having hosted the Cycle Against Suicide last year, such was the impression left by this event, that all concerned felt that the message was too important to be left to one side! And so, the 5K Run/Walk Against Suicide came into being.
The Amber Flag committee in the school focuses on positive mental health and set about organising the 5K Run/Walk Against Suicide, to promote the message, 'It's OK not to feel OK and it's absolutely OK to ask for help'. The entire school community took part in the event.  Ellen Quinn a 6th year student describes the event: "I am a member of the Amber Flag committee in Our Lady's for the last three years.  To mark the one year anniversary of the Cycle Against Suicide, which visited our school last year, we decided to hold a 5k walk/run to promote positive mental health within our school community and local area. The run was a huge achievement for all 700 students, parents and teachers who participated and helped us to organise it.  I was overwhelmed walking with my class mates and teachers down the main street in our town, all dressed in orange to send out the message of the cycle again.  For myself it will be one of the many happy memories from the Amber Flag committee and mental health activities that l have helped organise. On behalf of all involved a special thank you to our sponsors, McMahon's SuperValu, Today's Local, Quinn's Butchers, Loughman Sports, and T.W Menswear".
'It's OK not to feel OK and it's absolutely OK to ask for help'
Transition Year Awards in Our Lady's
Transition Year Awards night at Our Lady's is always a colourful, energetic and highly entertaining night and last Thursday the TY class of 2018 were not found wanting.  All their talents were on display with 15 stalls on show from the different subjects and modules in TY. Students from the Drama, Dance, Law and Musical Theatre modules all performed on the night with most of the students in TY participating in some way, either by manning the different stalls, on stage acting, dancing or speaking.
TY Co-ordinator, Mr Bishop welcomed all the students and their families to this celebratory evening which was truly a TY event, from the entertainment right down to the delicious refreshments prepared by the students. Touching on the wide diversity of the experiences to which the students had access, Mr Bishop mentioned Build a Bank, Mini Company, Sports leadership programme & Peer Educators Programme. All of this coupled with talks on Drugs Awareness, Road Safety, Mental Health and workshops on Drumming, First Aid, CPR and Internet Safety, among others, makes TY a wonderful opportunity for the young people with something for everyone.
Introducing the guest speaker for the night, Mr Bishop warmly welcomed Keilidh Cashell to the podium. Keilidh, a Make Up Artist and Entrepreneur took time out from her busy schedule before jetting off to Las Vegas the following day. She participated in a Question & Answer session which was extremely interesting and had words of wisdom for all present about topics like preparing for the next two years ahead in school and being criticised on social media. She was indeed an inspirational speaker and delighted the TY students and their parents.
The evening concluded with Keilidh presenting the certificates to the students which rounded off a very memorable evening.
Castleblayney Cancer Society
TY students, Arianne Duffy and Anais McGuire present a cheque for €1077 to representatives of Castleblayney Cancer, proceeds from fundraisers organised by all the Transition Year classes.
Kevin Bell Repatriation Fund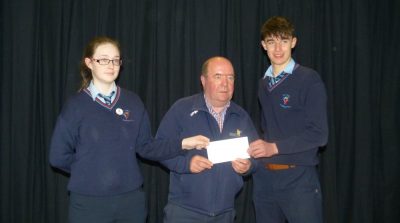 Jason Carragher and Rachael Cumiskey present Mr Colin Bell of the Kevin Bell Repatriation Fund with a cheque for €1077, proceeds from fundraisers organised by all the Transition Year classes.
Our Lady's choir claim 1st place in Navan Choral Festival for the third consecutive year.
Our Lady's Secondary School Choir is very proud and delighted to claim 1st Prize in the In the Navan Choral Festival for the third year in a row. This 60 strong choir and dancers, under the direction of Music teacher, Ms Cara Murray, wowed both the audience and judges with their performance drawing positive words of commendation and praise from the judges while the audience gave them a standing ovation.
Navan Choral Festival was established in 1979 and prides itself on attracting competitors of the highest standard. They seek to bring the best choirs to Navan and to increase the standard of choral singing in Ireland. And each year in Our Lady's the choir aspires to perform in this prestigious Festival.
A 14 minute performance in a Glee Style with songs from Katy Perry, Swedish House Mafia, Coldplay, James Bay & Hamilton, ensured that this talented group of singers and dancers would take home 1st Prize in their category. Judges complimented the students on a 'performance of power and presence', with 'precision of movement', 'full of expression', with every student 'entering into the spirit' of the occasion and performance.
Music teacher, Ms Murray could not commend her young charges enough, "they are a great bunch of young students, eager, enthusiastic and bubbling with energy. They work extremely hard and do everything I ask of them. They are very deserving of this award". Speaking at the school during the week the Principal Mr. Kelly congratulated Ms. Murray and the students on yet another outstanding achievement. He acknowledged 'the outstanding commitment and dedication made by Ms. Murray in preparing the students to such a high standard and that the students' success is a just reward for all their hard work and efforts. Ms. Murray and the students are now looking forward to continuing with their preparations for the International Eisteddfod festival in Wales during the summer.'
Huge congratulations from everybody in Our Lady's
Another National Success for Our Lady's as 5th Year Chemistry Students set to represent Ireland in the Schools' Analyst Competition
Congratulations and well done to 5th Year Chemistry students in Our Lady's,  Cillian McConnell, Ciaran McKearney and Vincentas Ajauskas who were the winners of the Dublin heat of the prestigious Schools' Analyst competition held in DCU on Thursday 26th April. The boys will now go on to represent Ireland in Bangor University, Wales in June.
The students had to work as a team to analyse the contents of an aspirin tablet. They were judged on their skill, understanding and accuracy with emphasis on team work and safety in the laboratory.  They had to use their laboratory skills to carry out titrations and got the opportunity to use chromatographic separation techniques and UV spectroscopy. Their skills and aptitude for analytical science were evident as they worked through the task as a team, carried out calculations and analysed the data collected. They will now go on to compete in the UK and Ireland Final which will be held in June in Bangor University, Wales. All expenses for the trip will be paid for by the Royal Society of Chemistry.
Speaking at the school during the week Principal Mr Kelly congratulated the three boys and their Chemistry teacher Ms Higgins on this fantastic achievement, "once again the students from our school have shown that they have the skillset, talents and ability to compete in such prestigious competitions. We are extremely proud of the three boys, they have shown a great interest in and commitment to this subject area and it is fantastic that they got to showcase this at national level. Great credit must go to their teacher Ms Higgins for all her hard work and generosity of time in working with the students and in preparing them to such a high level for this competition. We look forward to supporting Ms Higgins and the three boys as they continue with their preparations for the forthcoming competition in which they will represent Ireland in Bangor University in June."
Our Lady's student delivers powerful message in Seanad Eireann
Congratulations to Transition Year student, Ellen Mc Mahon, daughter of Pete and Paula Corracloughan, who delivered   in Seanad Eireann last Tuesday 17th April. Díospóireacht na nÓg was organised as part of the Vótáil 100 programme, which this year celebrates 100 years of the women's right to vote. Over 350 students from across Ireland entered the competition and Our Lady's student, Ellen Mc Mahon was successfully selected as one of the 16 finalists to part take in the programme.
On Tuesday last, 17th April, Ellen addressed Senators, TD's, parents and teachers on the following topic: "Has the struggle for freedom, justice and equality been realised in Ireland's institutions, culture and society? Ellen raised a number of important points throughout her speech including how women continue to fight for equality in our world today. "We struggled to secure the same careers as men, yet we still get paid 14% less for doing them. We struggled to be given the same power and authority that men are given, yet only 14% of Irish companies have female CEOs. Clearly, we are still struggling today. However, the solution is not to acknowledge the inequalities. The solution is to take action to combat them."
Teacher, Ms Erin Brennan and all in Our Lady's are very proud of Ellen and as Senator Gabrielle Mc Fadden said "I feel the future of our great country is going to be in very safe hands".
Success for Our Lady's in the National Public Access to Law Competition
……..ensures that these young students will participate in World Invitational Empire Mock Trials in New York in October………….
Huge congratulations to Our Lady's TY Law Module students who head to New York in October to participate in the World Invitational Empire Mock Trials.
Our Lady's Secondary School Transition Year Law Module students were the first placed qualifying school of the four semi-finalists from thirty two schools that took part in the National Public Access to Law Competition that took place in the Criminal Court of Justice in Dublin last weekend. Their success in this competition ensures that they will compete in the prestigious World Invitational Empire Mock Trials competition in New York next October.
The Transition Year students have spent most of the current academic year preparing for this competition in their law module under the expert guidance and direction of local solicitor Mr Paul MacCormack and member of staff Mr Eamon McMahon.  This law module and the Public Access to Law Competition give the students an excellent insight into the workings of the Irish legal system as well as developing the student's skills in critical thinking and public speaking.
The students involved included Dara Rudden, Ailbhe Brohan, Frances Horgan, Mia Daly, Anais Maguire, Zara O'Gorman, Sophie O'Sullivan Gray – captain, Katie Carragher, Ben Connolly, Conor Brady – vice captain, Tara Mc Ardle, Adam Dolan, Patrick Clarke, Ryan Buckley, Laoise Lawless, Orlaith Duffy. They were required to defend and prosecute fictitious court cases and beat off stiff competition from 32 schools  to secure first place.
Speaking at the school the Principal Mr Kelly congratulated Mr MacCormack, Mr McMahon and the students on their outstanding achievement commenting that 'the student's involved in this module have sacrificed an incredible amount of time fine tuning their preparations for this competition and spent numerous weekends and several days during the Easter holidays rehearsing and practicing. Their success at the weekend is a just reward for all their hard work and efforts. The students have seen the value of making sacrifices, hard work and commitment and I've no doubt that the skills they have learned will transfer into other aspects of school life. I would like to pay particular thanks to Mr MacCormack and Mr McMahon for their expert guidance and their incredible generosity of time to give our students this wonderful opportunity. This is our fourth success at national level in Our Lady's this year with a 1st placing for Keisha McCann in the National Credit Union Art competition, similar success for Ms. Murray and the choir in the National Showchoir competition and the win for Mr Mulroe's Fifth Year Economics class in the Euroscola competition that resulted in a trip to the European Parliament in Strasbourg. When you add these successes to the success the school has had at local and national level in recent years in the areas of sport, music, drama, languages and science it speaks volumes for the talents and abilities of our students but also for the dedication and commitment of our staff who always go the extra mile to ensure the students in our school are afforded every opportunity to display and develop their talents. We look forward to supporting Mr MacCormack, Mr McMahon and the students as they prepare for the National Law Final with the other three place semi-finalists that takes place in Dublin on May 12th before preparations begin for the World Invitational Empire Mock Trials competition in October.'
Colin is Student of the Year at Our Lady's
Sixth Year student, Colin Merrick is the proud recipient of the Gerald F Gillanders Student of the Year Award for 2018.  Before the entire student body and to tumultuous applause, Colin received this very prestigious award which was constituted in memory of the late Gerald Gillanders, who was Deputy Principal of Our Lady's at the time of his sudden death in 1984.
Colin received an inscribed crystal clock and a scroll while the four other worthy nominees were presented with a scroll and an engraved pen at the ceremony.   All five were feted the following night before their parents at the Annual Awards ceremony in the school.
School Principal, Mr Eddie Kelly, congratulated Colin as the Student of the Year for 2018.  "This is a much coveted award and a great honour for any student to receive. On behalf of the staff, I would like to congratulate Colin and thank him for his contribution to school life over the last six years.  We are indeed very proud of Colin and we extend to him and all the class of 2018 every good wish for their Leaving Cert and in their career decisions over the next few months"
Colin is son of Pat & Frances Merrick, Knockagolis, Castleblayney
Our Lady's TY student Shauna in the top twenty in Four Nations MOS Final
Our Lady's Transition year student, Shauna Casey was chosen as one of the top twenty students in the country based on her excellent result in her Excel MOS (Microsoft Office Specialist) exam and attended the Irish finals held on Friday May 11th.
Thousands of students across Ireland aged 13-22 have taken MOS exams to qualify and compete to claim a place as an Irish MOS finalist. The 'best of the best' from these students culminated in the top twenty for each of the categories: Word, PowerPoint and Excel, being invited to the overall Irish MOS Four Nations Final. Shauna, daughter of Anita & Michael Casey, Drumherriff, Broomfield, Castleblayney, recorded a top score in her Excel MOS exam which resulted in her participation in the Four Nations MOS Final held in the Microsoft new DreamSpace.
The MOS Irish Finals event was an action–packed day of digital skills learning for students. Along with sitting an exam in their respective Microsoft programmes, Word, PowerPoint and Excel, students participated in a Minecraft workshop led by Peter O'Doherty (Global Minecraft Mentor) and a Microsoft DreamSpace Experience workshop led by Amanda Jolliffe (DreamSpace Lead, Microsoft Ireland).
MOS Co-ordinator in Our Lady's, Ms Kathryn Clarke, spoke highly of the event "the importance of digital skills in today's job market is indisputable. Independent research consistently ranks skills in Microsoft Office among the top five attributes that employers look for in prospective candidates.  This is an excellent achievement for Shauna, a huge addition to her CV and one she can be very proud of".
International Accolades beckon for Our Lady's as National Awards keep rolling in
……………….With 4 major awards in prestigious competitions since March
Most schools would be delighted to have scooped a national award in the course of a school year but Our Lady's can count themselves very special to have achieved four prestigious awards since March! The broad ranging aspect of these achievements, from music to chemistry, politics and law… speak for themselves with something for all students' interests. It also points to the fabulous teamwork between students and teachers, a 100% commitment to the pursuit of excellence.
This ball of success started rolling in March when teacher, Dr Patrick Mulroe and his 5th Year Economics class won a trip to the European Parliament, Strasbourg on foot of a video which they created to encourage young people to vote as part of the Euroscola competition. MEP Matt Carthy recently visited the school to present the students and the school with their certificates and hosted a very engaging Question and Answer session with the students.
Early April saw a group of Law Module students in Transition Year win the National Mock Trials in the Criminal Court of Justice under the stewardship of local solicitor, Mr Paul MacCormack and staff member, Mr Eamon McMahon. Their success in this competition ensures that they will compete in the prestigious World Invitational Empire Mock Trials competition in New York next October. So as many students look forward to their holidays, these young students are racheting up their act and honing their debating and legal skills.
Another group of students who are preparing to represent Ireland in the UK and Ireland Final of the prestigious Schools Analyst Competition is Cillian McConnell, Ciaran McKearney and Vincentas Ajauskas, 5th Year Chemistry students. The boys who are mentored by Ms Higgins, Chemistry teacher, will also be practicing and honing their laboratory skills as they prepare for the final in Bangor University, Wales in June.
And always bringing sweet music to the ears, the school choir scooped 1st prize in the National Showchoir competition in Navan last week, for the 3rd successive year under the expert tutelage of Ms Murray. She also has another group working and preparing into the summer, musical group Spraoi who will represent Ireland in the International Eisteddfod Festival held in Wales in July. Spraoi will represent Ireland in the categories of International Showcase and Street Dance competitions and will proudly carry Ireland's Tricolour in the Procession of National flags on 5th July.
As we delight in the successes of these National awards, the Law Module students, the Schools Analyst competitors and the Spraoi group gear up to another level as they prepare for their international experiences. Speaking at the school during the week, Our Lady's Principal, Mr Kelly congratulated the staff and students on their outstanding achievements. Our success in the academic area and in extra-curricular activities during the current academic year have been second to none and we are extremely proud of these achievements. As a school we are committed to giving our students as many opportunities as possible to develop their unique skills, talents and abilities both inside and outside the classroom. We are extremely proud of how our students embrace these challenges and the many and varied opportunities that are presented to them. I would also like to thank the teachers for their extraordinary generosity of time and the interest, dedication, hard work and commitment that they show to their students. We are looking forward to supporting staff and students as they finalise their preparations in the weeks and months ahead and we wish them every success in their various competitions.'
'School's out', as they say! Not so in Our Lady's! We as a school community would like to wish our legal eagles, our funky chemistry students and our effervescent performers all the very best as they compete on the international and world stage over the summer months.