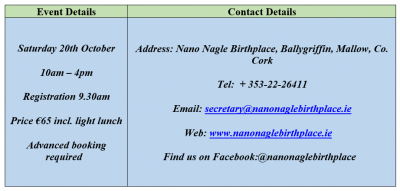 The World of Nano Nagle in Ireland and Internationally is the title of a series of lectures to be delivered at Nano Nagle Birthplace, Ballygriffin, near Mallow on Saturday, 20 October starting at 10am. The lectures will examine the Ireland in which Nano Nagle grew up and developed her mission; her maternal ancestry and Nano Nagle's Jacobite Heritage and her family's continental networks.
2018 is the tercentenary of the birth of Nano Nagle – the founder of the congregation of the Presentation Sisters in 1775 in Cork. Nano Nagle was born into a wealthy Catholic family during the Penal Laws in Ireland. As education was denied to Catholics in Ireland at the time, she was sent to Paris to be educated. On returning to Ireland she set up her first school in Douglas Street in Cork City where Nano Nagle Place is now a vibrant heritage centre. Her influence on education in Ireland was enormous, and was later spread to developing countries through the Presentation Sisters.
Professor Maurice Bric will speak on "The Catholic Interest in Late-Eighteenth Century Ireland". It was a time of challenge for a Catholic Church which wanted to rebuild its structures after years of enforced neglect, to regularise relationships between priest and people, and to define its relationships with the state.  It was also a time when – as an aspect of this new chapter in the Church's history – people like Nano Nagle pioneered the more socially-driven aspects of Catholicism and as such, brought them – and her – into the middle of a debate that was also going on in contemporary Europe about how the Catholic Church should be "reinvented" after the wars of the extended French Revolution.
To this extent, Nano Nagle inhabited different "worlds" – those of her own background as a member of a network of Catholic families (the "Catholic interest" of North Cork and South Tipperary), that of a Catholic at a time of change and challenge within her Church, and that of a vocation which sought to interact with the less fortunate at a time when the Church was discussing its "social mission" in new ways.
Maurice J. Bric, is Professor of History at UCD.  He has written extensively about the histories of the wider Atlantic world, especially during the later-eighteenth and nineteenth centuries. He is also Director of the annual Daniel O'Connell Summer School, and has recently completed a book on the international impact of Daniel O'Connell.
Charles Lysaght, who is a Dublin based biographer and a Mathew descendant, will speak on
Nano Nagle mother's side of the family. Nano Mother was Ann Mathew from Thurles.
Dr Declan M. Downey, School of History, UCD will speak on 'Nano Nagle's Jacobite Heritage and her family's continental networks'. This presentation will explore and examine the Nagle family's prominence in the Irish Jacobite cause, and their connections with Irish emigres in the continental courts. It was within this context that Nano Nagle was formed, and through these connections that she engaged with continental Europe.
Please click link below to download brochure.
THE WORLD OF NANO NAGLE flyer pdf