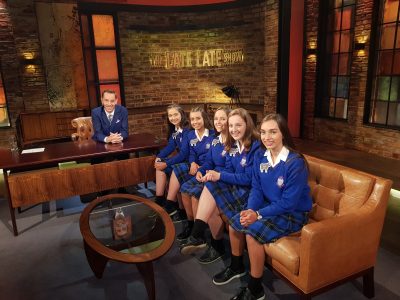 Five of our fifth year students did us proud on Friday the 14th of September when they were interviewed by Ryan Tubridy on, 'The Late Late Show'. The students were invited to appear on the show, as they were promoting the National Ploughing Championships, which took place this year in County Offaly.
Katie Tully, Saidhbh Gaffney-Bent, Amy Everard, Ciara Smith and Francesca McKenna were one of the winning teams in the Certified Irish Angus Beef School Competition. The students are one of six finalists in the competition and have been tasked with rearing Irish Angus calves over the course of the next 14 months. The official presentation of the caves took place at the National Ploughing Championships, where the students were accompanied by their Agricultural Science teacher, Ms. Fiona Leavy. During their four day stint at this fun and lively event, the girls thoroughly enjoyed meeting members of the public and providing details about their project.
An aspect of the project which the students are particularly passionate about is women in agriculture. They deem it a great honour to be in a position to encourage more women to consider a career in agriculture. They also hope to help and advise young women who may be considering running a family farm as a career.
St. Joseph's is very proud  that we offer our students Agricultural Science as a subject at senior cycle. This project will certainly be beneficial in creating awareness of the role agriculture plays in our everyday lives.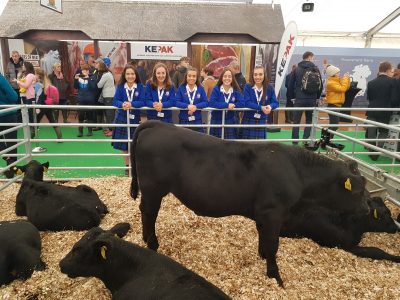 During their interview on national television, the girls also spoke of their intention to donate a percentage of the money raised to Aisling Brady, a teacher at St. Joseph's. Aisling is currently a patient in the National Rehabilitation Centre in Dun Laoghaire, where she is recovering from a stroke.
Reflecting on their efforts over the past year, the girls have experienced many benefits from undertaking this project. They most certainly have gained confidence in public speaking and have thoroughly enjoyed meeting people within both the agricultural and food industry. It is with great enthusiasm that they look forward to promoting all aspects of this project at Bloom 2019.