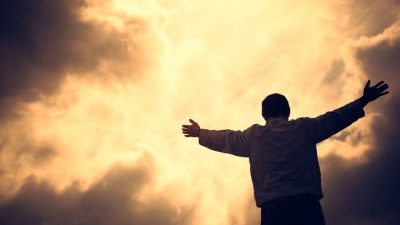 Christian hope and resilience go hand in hand, writes Colm Fitzpatrick
In a world that is becoming increasingly characterised by conflict, confusion and uncertainty, the ability to adapt well in the face of adversity is a value more prized than ever before. While it's easy to ignore our own failings or struggles and coil back into ourselves, the capacity to recover from hardship and learn from that experience is foundational to living a happy and more meaningful life.
Given the importance of this quality it seems obvious that schools should be focused on developing resilience in young people, especially in light of increasing trends of bullying and mental health issues. Without this character trait those who are suffering at the hands of others, or even in their own minds, are at risk of harming themselves physically, socially, and psychologically. But are emerging school resilience programmes living up to their highest standards, or is there an element missing in them that diminishes what is being taught?
This is the question that Tuam-based priest Prof. Eamonn Conway and Dr Kerry Greer of Limerick's Mary Immaculate College have asked, arguing that wellbeing programmes in Irish schools lack a scientific basis, and that the Christian notion of hope has been largely ignored in this type of teaching. In a paper entitled 'The Commodification of Resilience: Rediscovering the Virtue of Christian Hope for Troubled World', the authors say that hope can contribute to developing resilience, and that overlooking this prospect encourages students to believe that religious faith is "irrelevant and superfluous".
"Cleary religious education has much to contribute to building resilience in young people and for those who are Christians, a relationship with God, a relationship with Christ with the companionship and promise that holds should be the ground on which they daily stand and enable them to respond to various challenges which are inevitably part of life," says Fr Eamonn.
The argument is straight-forward: Christian hope is a vital resource in developing resilience – more so perhaps than other methods – and therefore should be integrated into wellbeing programmes, especially in faith schools, given its current absence. It's a reasonable suggestion to make but really hinges upon whether Christian hope is advantageous for resilience development.
Fortunately, there is evidence aplenty to back this claim. For example, one 2016 multiwave study that embraced nearly 800 adults from 42 countries in an effort to establish whether any of seven personality strengths did promote resilience – the seven being: hope, grit, meaning in life, curiosity, gratitude, control beliefs and use of strengths – revealed that only the personality strength of hope emerged as having a statistically significant potential to promote it. Indeed, an earlier study has shown that mortality rate increases in those highest in hopelessness, even after age and prior health has been taken in account. Of course, these results must be treated with caution, but for Fr Eamonn, studies like these show that the construct of hope has more potential than most to help deal with a troubled world – and "troubled" is certainly the best way to describe it.
Foundations
Fr Eamonn and Dr Greer point out that some 13% of all humanities students, for instance, suffer from mental health problem, which tend to lay the foundations for later medication dependency. They add that the Irish State is now looking to schools and to teachers in the classroom to address this rising tide of mental health challenges in our society.
It has even been reported recently by school principals that significant numbers of primary school children as young as four are presenting with serious mental health difficulties such as anxiety, depression and self-harm.
"Young children in primary school are facing mental health challenges…and this does raise many fundamental questions about what is happening in society, what is happening in the family and you know, in a sense, this is what we should be good at as a Christian community – helping people to stand up to challenges and in a sense to be hopeful and to be signs of hope for others in society," Fr Eamonn explains.
While it's unclear about how effective resilience programmes currently are in faith schools, Fr Eamonn believes that the multivalent problems faced by young students today could be better dealt with by introducing programmes which teach the Christian message of hope, rather than solely focusing on the provision of coping tactics, techniques and practices.
"My concern is that what is proposed, for instance, in the new Junior Cycle wellbeing programme which when it is eventually rolled out will run to 400 hours for students with Civil, Social and Political Education (CSPE), Physical Education (PE) and Social, Personal and Health Education (SPHE) as the main contributors, affording only a very marginal role to religious education. There's Religious Education in so far that it contributes to human rights education, social justice education but nothing in terms of how it invites people into a personal relationship with Jesus Christ," Fr Eamonn says.
Living out the virtue of Christian hope when confronted with adversity that we cannot control or overcome, he and Dr Greer say, allows us to dig deep to unearth a level of confident patience and perseverance that will sustain us.
It can also give us the courage to resist, challenge and triumph over adversity and so circumstances that seem hopeless to some people will seem less so to those living in accordance with this virtue. This is because as Christians, death no longer needs to be considered as the moment of our annihilation and similarly, in moments of crisis and adversity we can come to know that we are held by a love that is stronger even than death itself.
Very much in line with the famous adage of mystic Julian of Norwich – "All will be well" – Christians have the ability to remain joyful in all circumstances, however difficult, because of their knowledge that God gently guides history and cares in an intimate way about us. The task of Christian education then, is to deepen young people's trust that their lives are safe in God's hands, that God has a plan for them and to help them to discern their future according to this plan.
In light of this, Fr Eamonn is calling on Irish faith schools to reform their current wellbeing programmes by recognising the importance of religious education and Christian hope, which offers not a product or a package, but a person, the resurrected Christ.
"I'm encouraging faith-based schools to evaluate critically the resilience programmes that are being rolled out, to evaluate them critically, and to see in what way they need to be complemented or substituted by programmes that reflect that characteristic sprit of those schools."
But this isn't just a problem only schools and academic institutions should be tackling, but all Christians who, by living out this Christian hope daily, can inspire others to realise that most things aren't worth worrying over.
"I think the best way we can promote hope is to live hope – it is up to ourselves to live knowing that our lives, even in the most difficult moments, are held in God's hands and that our lives are protected, shaped and guided by God's hands and to live trusting in that and believing in that," Fr Eamonn says.
article taken from the Irish Catholic