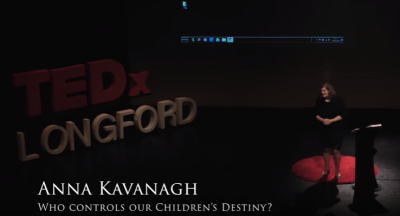 Anna Kavanagh MA a former teacher from St. Joseph's Secondary School Rochfortbridge, Co. Westmeath  recently spoke at TEDx Longford in which she discussed her book 'Green Schools: Meeting the Challenge of Climate Change'.
Anna is also Secretary to Stop CETA Alliance Ireland. After thirty three years teaching she believes that the Irish education system is failing to prepare young people for the changes in climate that will occur later this century. She believes that a radical change is required in our education system where an emphasis is placed on teaching young people how to meet this new challenge and live in a sustainable way.
Please click here to view this talk.