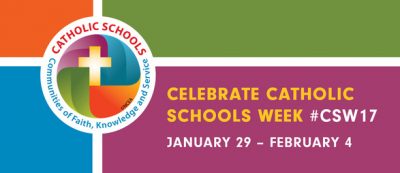 Catholics Schools Week: Monday 29th Jan – Sunday 4th Feb 2018
The theme of this year's Catholic School's week is 'Families of Faith'
Dublin has been chosen by Pope Francis to host the World Meeting of Families in August 2018
Families and others from all over the world will gather from different parts of the world, to reflect on the different challenges they face and to grow together in faith
During this Catholic schools week we will reflect on Catholic School: Called to be a Family of Families. We will reflect on and celebrate the relationship that exists between home, school and parish.
Each day will be marked with a thought/theme for the day
Monday's theme: 'Our Family at Home'
Theme for Tuesday- OUR SCHOOL FAMILY Our School Family
Parents are the primary educators; the Catholic school supports their work.
Our school community is part of our wider family.
A Catholic school is founded on the Gospel values; therefore, a Catholic school is the lived experience of the Good News.
Theme for Wednesday – Intergenerational Education
We live in a world where great importance is placed on things that are new. However, in society, we are missing out if we do not see the value of our older generations. Within our families, our grandparents play an important role in sharing the Good News. Our grandparents and elderly relatives strengthen the role of our parents as primary educators. The experience of our grandparents enriches our understanding of a Christian family. They have lived the Good news for longer and they have been challenged by the Good News for longer. They have a lot to teach us
Theme for Thursday – Our Parish Family
The Irish Bishops have stated that 'the parish community is the focal point of faith development in all its forms. It is another family to which we belong. Our parish is the place we are welcomed in Baptism, nurtured through the celebration of the sacraments, most especially through the celebration of the Eucharist. Our parish is there for us at very important times in our lives. Our parish helps us to develop good habits by being an example in care for others, especially those in need
Theme for Friday: Our World Family
If we see the world as our family, we become brothers and sisters to all. Our family at home has taught us good habits. Our school and parish families have supported these values. As part of the world family, it is up to us to demonstrate all these good habits. The love that enables us to reach out to others as our brothers and sisters is the love of God. It is, indeed, Good News. In treating others as our brothers and sisters, we are sharing the Good News
Esker Youth Ministry – Meitheal Youth Leadership Programme 2017/2018
John Oakley visited our school on Thursday 1st Feb to meet with our TYs to promote the Meitheal Youth Leadership programme for next year. The current 6 Meitheal leaders in 5th year helped John with his promotional workshop. This has been a very successful programme for the last number of years in Ardscoil Mhuire.