A new year, but the same amazing school community in Ardscoil Mhuire as we all hit the ground running in 2020!
ASM Mental Health Awareness Week
Our first day back after the Christmas Break, also marked the start of ASM's Mental Health Awareness Week!
Whilst events ran all week for staff and students, our Mental Health Committee were proud to present their Wellbeing Challenge! Every day two new challenges to promote general health and wellbeing (like drinking more water, getting enough sleep, and reaching out to those around you) were released and everyone was encouraged to get involved!
A little time out from the hustle and bustle of school life for our senior students as Ms Bolger led a series of relaxing yoga sessions for Mental Health Week! It was certainly much appreciated by the girls and the staff who participated!
Colouring Competition

Well done to First Year student Ava on winning the whole school colouring competition for our Mental Health Awareness Week. It was beautifully designed and we're sure that all who participated found the experience incredibly relaxing!
Hamper Raffel

Congratulations to all of the winners of our Self-care Hamper Raffle for ASM's Mental Health Awareness Week! TYs Hailey and Katie took the top prizes, whilst Second Year student Grace and Ms O'Brien (Home Ec.) also received prizes!  Enjoy!
Thanks to the raffle, and other events organised by Ms Kerin and our Mental Health Committee, we will be presenting a cheque for €400 to The Haven Hub!  Special thanks to the TYs for selling tickets, especially Chloe and Katie for also donating the proceeds from the sale of their TY hoodies!
LCVP Class

One of Ardscoil Mhuire's Fifth Year LCVP classes received an outstanding welcome to Cook Medical early in January thanks to the School Business Partnership Programme that exists between our school and Cook.
As part of the LCVP programme the girls will be working alongside Cook Medical staff for the year developing a wide range of skills and knowledge that will benefit them in their exams, but also in life after school!
The girls were treated to a presentation on the history of Cook and its work before taking a tour of the facility. There was lots of time for questions, discussion, and team activities during what was a fantastically educational day!
Youth Advisory Panel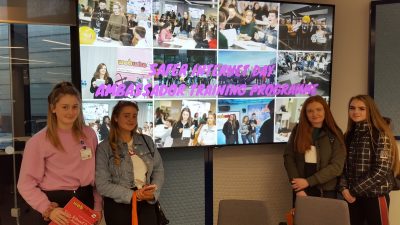 Well done to Erin, Sarah, and Neala (Youth Advisory Panel), and Hailey (#SID2020 Ambassador) on participating so fully and enthusiastically in Webwise's Safer Internet Day training in Google HQ on the 15th of January!  Erin, Sarah, and Neala were inspirational leaders on the day, as they worked to train the newest Safer Internet Day Ambassadors in how to run events in their own schools.  Hailey may have been following instructions on the day, but since their return she has been leading the preparations for #SID2020!  We can't say much now, but according to Mr Huff our Safer Internet Day celebrations will be bigger, brighter, and more inclusive than ever before!
Lots to look forward to on February the 11th and beyond!
Soccer
Hearty congratulations on a tremendous win to Ardscoil Mhuire's Second Year soccer team.  They were victorious over Coláiste Iósaef Community College, Kilmallock!  Well done to the team, Ms Shanahan, and Mr Carroll!
Athlunkard Boat Club

A huge thanks to John McDonald for working with some of our First Years in Athlunkard Boat Club during the month of January!  Their skills are coming along nicely and they're so excited for the upcoming Get Going Get Rowing competition in the University of Limerick!
TY Show 2020

A great day for our TYs in late January as they descended on Thomond Park for the TY Show 2020! Not only was there a lot of fun had, but the girls came away with a ton of information to help them make some big decisions over the next couple of years!  Sincere thanks to all who came to speak to the students, from all over Limerick and beyond, about what the future might hold!
1st Year History

An early practice run at their later CBAs for Ardscoil Mhuire's 1 Hannah History class!  Under the tutelage of Ms Quinn, they put their knowledge of medieval castles to the test as they constructed their own and presented their research to the group!
Concern Debates

Congratulations to our Concern Debates team on again emerging as one of the top teams in this year's competition and qualifying for the upcoming Playoff Round!  They're busily preparing for a debate on gender quotas.  Best of luck to Mr Huff and the whole team!