Thursday 18th May 2017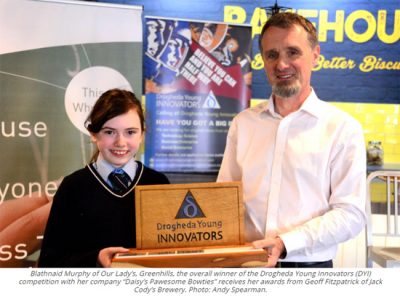 Congratulations to Blathnaid Murphy, Our Lady's Greenhills, Drogheda who was the overall winner of the Drogheda Young Innovators Competition with her company "Daisy's Pawesome Bowties".
Some of Drogheda's brightest secondary school students had the nerve wracking task of pitching their ideas to the judges of the Drogheda Young Innovator (DYI) competition 2017 on Friday last.
The fact that the final took place in the East Coast Bakehouse premises and there was a plentiful supply of delicious biscuits on hand did make their task a bit easier however as the 20 shortlisted projects from the original 100 applications, were reviewed in details by the judges.
The DYI competition was started four years ago to encourage students from the area to develop their sense of curiosity and to come up with bright ideas in one of three categories – Science and Technology, Enterprise/Business or Social Enterprise.
Of course they had to do more than come up with the idea, they also had to develop that idea into a project that they could test, refine, evaluate and, perhaps most importantly of all, communicate its value to the judges.
As the students were told in the entry form: "A good idea badly communicated can remain as your 'secret' –an 'uncut gem'.