CEIST are delighted to announce their new Calendar of Hope Art Competition 2021.  Open to all senior cycle students within our CEIST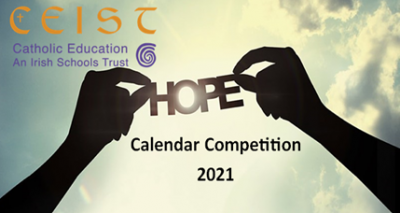 community the theme for this year is "Hope".
After a most difficult year with the global pandemic affecting every individual in every nation,  never has there been a greater need for Hope.  This opportunity  encourages entrants to think past the current situation and imagine what 2021 will bring.
CEIST are currently focusing on building community.  Shared expressions of Hope within our community will be greatly needed as we embrace the new year and so we invite entrants to reflect on our learning from the past year.  Art enriches the lives of everyone and is central to sustaining and  increasing connections.
Calendar Competition 2021 Entry Form is available here and we look forward to receiving and viewing lots of artistic creations.
Competition Details
Entry should be made by completing the official Entry Form, downloadable from the CEIST
website and attached to the back of the entry.
Name, address, date of birth, year group and school details (name and roll number) must be
clearly printed on the entry form and then attached to the back of the entry.
All entry forms and artworks must be certified by a teacher as being an unaided and original
work of the entrant.
This competition requires entrants to draw or paint posters using pencil, charcoal, pen or ink,
felt tip marker, crayon, pastel, water colours, gouache, acrylics, oils, poster colour or collage.
Posters are required to be A3 (420 x 297 mm) and landscape orientation.
The Judges will select 12 winning entries, one for each month of the year.  A

CEIST

calendar
will be distributed to each of our schools featuring the winning entries. In addition, there will
be individual prizes and a prize for the Art Department. The Judges' decision is final.
It should be noted that once artwork is received by us they become our property and may be
reproduced at our discretion and may only be returned at our discretion. All entries are
accepted as original works and we are not responsible for any breach of copyright.  

We will not accept liability for loss or damage to any work submitted.

Entries (marked Calendar) should be sent to the Office, Summit House, Embassy Office Park,
Co. Kildare to arrive no later than

5pm on Friday 11th December 2020

.
We look forward to seeing your beautiful creations and wish all entrants the very best of luck!