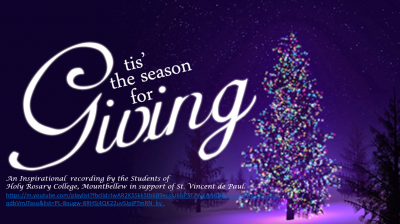 Congratulations and well done to the students of Holy Rosary College, Mountbellew who recorded a beautiful rendition of "O Holy Night" for St. Vincent De Paul.
The song was recorded in line with Covid-19 guidelines.  All the students recorded their individual vocal and instrumental tracks at home and these were then uploaded and compiled into the finished production.
Many thanks to all students involved.
https://m.youtube.com/playlist?fbclid=IwAR2K5SkkStb6B9ecskJ6lsPSFZWKAArDRKS17BFxwxwy1G5zGqdbVmJTaso&list=PL-8ougw-8RHSj4QK22uvSJpjPTmRN_ky_