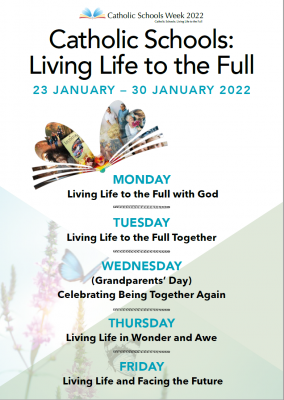 Catholic Schools Week will be celebrated in schools across the island of Ireland from Sunday 23 January – Sunday 30 January. The theme for Catholic Schools Week 2022 is 'Catholic Schools: Living Life to the Full'.
During Catholic Schools Week families, parishes and schools are invited to participate in a week of celebration of Catholic schools reflecting on their contribution to the common good of society.
Don't forget to share what's happening in your school on social media using the hashtag #CSW2022.
Daily Themes and Resources
Monday: Living Life to the Full With God
Monday Resource Post Primary CSW2022
CSW2022 Monday PowerPoint
Monday Resource Post Primary CSW2022 Irish
Monday Powerpoint CSW 2022 Irish
Tuesday: Living Life to the Full Together 
Tuesday Resource Post Primary CSW2022
CSW2022 Tuesday PowerPoint
Tuesday Resource Post Primary CSW2022 Irish
Tuesday PowerPoint CSW2022 Irish
Wednesday (Grandparents' Day): Celebrating Being Together Again
Wednesday Resource Post Primary CSw2022
CSW2022 Wednesday PowerPointpptx
Wednesday Resource Post Primary CSW2022 Irish
Wednesday PowerPoint CSW2022 Irish
Thursday: Living Life in Wonder and Awe
Thursday Resource Post Primary CSW2022
CSW2022 Thursday PowerPoint
Thursday Resource Post Primary CSW2022 Irish
Thursday PowerPoint CSW2022 Irish
Friday: Living Life and Facing the Future
Friday Resource Post Primary CSW2022
CSW2022 Friday PowerPoint
Friday Resource CSW2022 Irish
Friday PowerPoint CSW2022 Irish