The Twelfth Annual Education Conference was held in the Hodson Bay Hotel, Athlone, Co. Westmeath on Thursday, 28th & Friday, 29th September, 2017. The theme for the conference was "CEIST 2007 to 2017: Looking back to look forward".
The CEIST Team were greatly encouraged with the number of School Principals, Deputy Principals and Chairpersons of our Boards of Management who attended this year's conference.
There was a great sense of community at the conference and our Principals, Deputy Principals and School Board of Management Chairpersons availed of the opportunity to network and share ideas with each other.
We received very positive feedback about our keynote speaker Prof. Daire Keogh, and indeed for all of our workshops.
CEIST would like to very much thank our Keynote and workshop presenters for their time and energy given to the conference.
CEIST also are very grateful to Shane Martin for his very engaging presentation, "Live in Hope", which he presented to all towards the end of the conference on Friday.
School Participation
We would like to extend our sincere gratitude to the two excellent school choirs who participated at the conference. The two schools who participated were St Mary's College, Arklow and Presentation Secondary School, Clonmel. The two school choirs were superb and really energised everybody at the conference and were a credit to their schools.
CEIST CEO Dr. Marie Griffin also invited the students of St Raphael's College, Loughrea to share their experience of the CEIST Student Leadership Conference which was held in March of this year. It was a great joy to listen to the students view of the conference and was again very well received by all.
Conference Photo Gallery
A great number of photos were taking over the duration of the conference. Please click on the image below to view all photos available.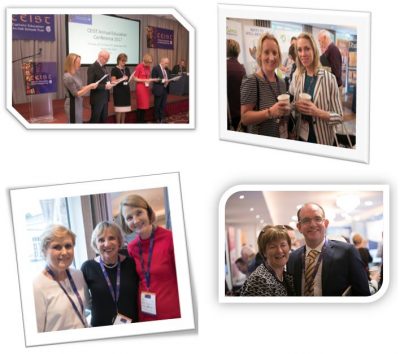 Sponsor
CEIST would like to take this opportunity to say a huge thank you to our sponsor Allianz. There continued support leading up to and throughout the conference was very much appreciated. Also a big congratulations to Alan Black for winning a prize in the Golf Classic.
Golf Classic
Big thank you to Johnny McCormack from Árdscoil na Tríonoide for organising the CEIST Golf Classic. There was great enjoyment for all early risers who took part and also huge congratulations for Johnny for having top points on the day!!
Full results of the Golf Classic are below:
| | |
| --- | --- |
| 1st | Johnny McCormack |
| 2nd | Cathal Moore |
| 3rd | Liam Bergin |
| 1st Lady | Rita McCabe |
Presentations
The following presentations were kindly made available from the presenters for download. 

CEIST & Schools – Relationships and Responsibilities 
presented by Bernard Keeley Chairperson CEIST
Click here to view
The EDUCENA Foundation
Presented by Liam Bergin CEO Educena 
Click here to view
Conference Working Sessions 
Below is a brief summary of the working sessions which took place over the course of the two days of the conference.
'Christian Mindfulness', Martina Lehane Sheehan 
Martina Lehane Sheehan is director of retreats and programmes at Ennismore Retreat Centre, Cork. An accredited psychotherapist, she regularly facilitates retreats and workshops on matters of spirituality and personal development.
'Current Research on Catholic Schools'
Ciaran McCoy, Seamus Lynch, Wesleigh O'Hagan, Prof. Gareth Byrne and Dr. Bernadette Sweetman
– Sacred Space and the School Community', an assessment of how sacred spaces are used within second-level education system in Ireland and the role that sacred space may play in the faith experience of the school community.
– An analysis of the direct and indirect factors affecting Capital Expenditure allocation for second-level schools in Ireland".
'Internet Safety/ Children of the Digital Age', Jason O'Mahony
The most up to date and relevant information on Internet Safety, in a multi – media power point presentation with plenty of interactivity. An introduction to New Apps such as Yellow, SimSimi (now reactivated for Ireland), Live.ly, Saraha etc. Blue Whale, Salt and Ice etc.
'LifeWorks', Áine Ascough and Emma Sisk
LifeWorks deliver multimedia-rich pro-life presentations which are commended for taking a compassionate, balanced and youth-friendly approach. The LifeWorks team have visited almost 100 Irish schools since the programme was founded in 2013. In addition to the presentations they create unique resources and materials to assist teachers in their classrooms.
'Conflict Resolution', Freda Nolan
Workshop to explore the reasons for conflict and how best to avoid it.
'The Role of Chair', Paddy Boyle 
This will be an interactive session facilitated by Paddy Boyle, Former Chairperson, Presentation, Athenry.
Paddy will share his experiences to date on being a Chairperson of a CEIST School Board of Management.
'One Month On – New Principals', Marion Cummins
This will be an interactive session facilitated by Marion Cummins where CEIST will follow up with new Principals from our recent induction day held in the CEIST office.
'One Month On – New Deputy Principals', Paul Clarke 
This will be an interactive session facilitated by Paul Clarke where CEIST will follow up with new Deputy Principals of CEIST schools from our recent induction day held in the CEIST office.
Exhibitors
CEIST are also very grateful to the exhibitors that displayed their products. Below is a list of the Exhibitors who were present at the conference and brief summary of the services they have to offer.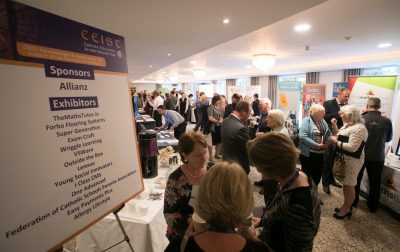 Allergy Lifestyle
Provides information and products to help kids suffering from different degrees of allergies. Teacher training also provided.
Full information can be found at https://www.allergylifestyle.com/
Easy Payment Plus
Payment system for schools and parents.
Full information can be found at http://www.easypaymentsplus.com/
Examcraft
Junior and Leaving Certificate mock examination papers with correction service for schools.
Full information can be found at http://www.examcraft.ie
Forbo Ireland
Flooring, building and construction services for schools.
Full information can be found at http://www.forbo.ie/
iClassCMS
Web design, CMS and Apps for schools.
Full information can be found at http://iclasscms.com/
Lennox Lab Supplies
Educational equipment supplies for schools.
Full information can be found at http://lennoxeducational.ie/
One Advanced 
Software provider for SMS alert, timetabling and school systems.
Full information can be found at https://www.oneadvanced.com/
Outside The Box Learning Resources 
Providers of CPD training and resources for Educational and Health professionals.
Full information can be found at https://www.otb.ie/
The Federation of Catholic Secondary Schools Parent Associations (FED-CSSPA)
Representative body for Parents with children in Irish Catholic Voluntary Secondary schools. Also provides information and guidance to parents/guardians.
Full information can be found at http://www.fcsspa.ie/
The Maths Tutor
E-learning system for Junior and Leaving Certificate Maths.
Full information can be found at https://www.themathstutor.ie/
Super Generation
Provider of Study skills workshops and leadership seminars for schools.
Full information can be found at http://thesupergeneration.com/
VSware
Software provider for SMS alert, timetabling and school systems.
Full information can be found at http://vsware.ie/
Wriggle – Your Digital School Bag
Technical solutions, technical support and computer equipment for schools.
Full information can be found at http://www.wriggle.ie/
Young Social Innovators 
Active citizenship and education programme for 15 to 18 year-old teens.
Full information can be found at https://www.youngsocialinnovators.ie/