Drogheda's Fittest School Challenge- 12th October, 2017
WE ARE THE CHAMPIONS- We are Drogheda's Fittest School for the second year in a row! Congratulations to our fantastic team for winning the Warrior Shield again this year-we are so proud of you all.
Team SHS;
6th Year: Sophie Hayes, Jill Kenny, Sadbh Kindlon, Nicole Reilly, Carenza Rock, Aisling Haigney (photographer)
5th Year: Cara Kindlon
Transition Year: Shauna Murphy, Caoimhe McPeake
3rd Year: Noelle Coyle, Holly Brennan
Thank you also to Boomerang Centre and Cafe for coordinating and to Celtic Adventures for hosting this event.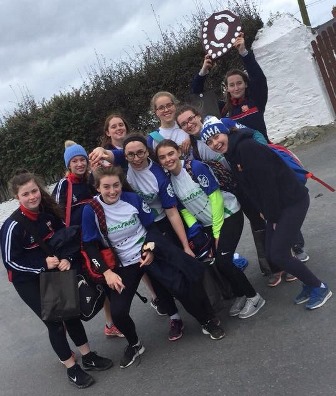 Student Leadership Council 2017/2018
The Student Leadership Council is made up of Senior Prefects who represent each class group, four House Captains (Amergin, Lir, Rosnaree and Tara), Extra Curricular Activities Prefects and the Head Girl. Their role is to develop a House spirit, foster community, support the student body and develop leadership skills.
Head Girl: Carenza Rock
Student Leadership Council with our Principal, Ms Carroll (right)and our Deputy Principal,Ms Lynch (left)
American Student Exchange Programme 2017-2018
A group of our Transition Year students, accompanied by Ms Carroll and Ms Mitchell, arrived in Washington on Friday 13th October to begin their Student Exchange Programme with students from Georgetown Visitation. The girls certainly had an exciting and busy week meeting their American families, attending classes and visiting famous landmarks. We are looking forward to welcoming our American exchange students and their teachers to Drogheda in March 2018.