This year as part of our religious education programme our third year students (Coláiste an Chroí Naofa, Carraig na bhFear, Co. Cork) are promoting the core values of CEIST.
These values are intended to support and nourish the lives of the people who are at the heart of our schools – students, staff and parents.
This project, completed by class 3.1, celebrates the first of Ceist's five values; Spiritual and Human Development. The butterfly's transformation from a caterpillar represents the Spiritual Journey which we experience together as a school community. The flower is adorned with 'butterfly themed' inspirational quotes.
Every day, this school community is growing and blossoming; spiritually as well as in every other way.
"If nothing changed, there'd be no butterflies."
The class of 3.2 aimed to show that we, as the community of Colaiste an Chroi Naofa, respect the unique and intrinsic value of every person by creating the 'Wall of Happiness'.
The wall contains the 'How Fabulous' Board, which acknowledges the achievements of our students and also encourages student body to take an active role in supporting each other. It is updated regularly. They also wanted to make the members of our school community smile so created a poster of different things that make them happy…….smiles all around!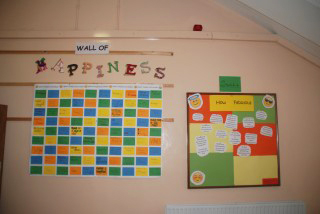 After much brainstorming class 3.3 decided to promote the values of 'Showing Respect for Every Person' and 'Creating Community' In order to show each student that their presence within our community is valued and to welcome new members to Colaiste an Choi Naofa they created a 'beehive'. Every student and staff member is represented by a bee and 'bee themed' inspirational quotes and welcome messages were hung along our main corridor.
Well done to all involved and a big thank you to all the teachers who helped them out.