Congratulations to St. Joseph's Secondary School, Rochfortbridge, Co. Westmeath on their recent Leinster Camogie title win against another CEIST school who did so well to reach the final, Presentation Secondary School, Wexford.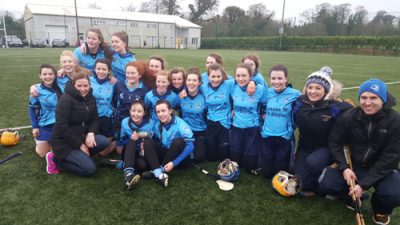 Match Report
St. Joseph's Rochfortbridge despite the blustery conditions, started well with two points on the board within ten minutes from Ava Balfe and Ciara O'Looney.
The St. Joseph's girls held much of the possession in the first half, however a strong physical Presentation Wexford side were far more clinical with any opportunity they had to go in with a one point lead at half time. (Rochfortbridge 3pts to Presentation Wexford 1 goal and 1 point) Both teams came out fighting after the break and took a point each.
The second half proved dramatic with the referee sending off a supporter from the side-line followed by a disallowed goal from the Presentation Wexford side. The St. Joseph's girls shook off the first half nerves and Ciara O'Looney levelled the game with a well taken free in difficult conditions.
The girls in blue overcame huge pressure and physicality from the Wexford team, growing in confidence to go on to score point after point, unanswered on the scoreboard by the Presentation Wexford girls. A speculative goal came from a free 40 yards out that went through a sea of players to finish in the back of the net.
A number of points followed as St. Joseph's piled on the pressure. They were rewarded with another goal from a superb strike from Laura Kilcoyne that was deflected off the foot of Jade McKeogh. The Rochfortbridge ladies won comfortably in the end with a scoreline that did not reflect the challenge that the team surmounted.
The match finished 2 goals and 10 points to 1 goal and 2 points.
Congratulations to the girls and their mentors.