British Youth Music Theatre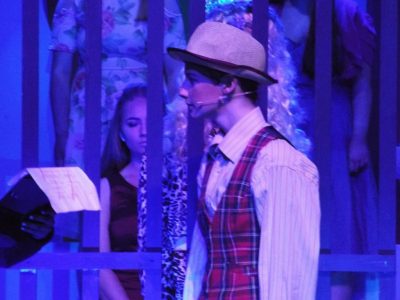 Congratulation to our own Malachi Drew who has secured a part with the British Youth Music Theatre in their next production of 'Breadboy'.  The British Youth Music Theatre is the leading music theatre company for young people aged 11-21. The Company creates at least eight brand new full-scale productions across the UK and Ireland with over 300 young people – the BYMT Company. The shows feature a wide range of genres from Pop to Folk, Classical to Rock showcasing New Music Theatre writing at its best and most diverse.  We wish Malachi all the very best.
Acceptance Week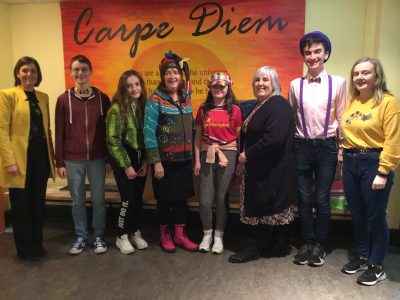 Well done to our Student Council for organising Coláiste Muire's first ever Acceptance Week during the week of the 9th March.  This included a speaker for Senior students from the Smily Project in Sligo, a non-uniform day and many activities for students during SPHE and CSPE lessons.  Pictured below are the winners of the non-uniform day held on Thursday 12th March:
Basketball Success
Congratulations to the 1st year boys basketball team who beat Ballyhaunis Community School in the regional semi-final on Friday 6th of March. The boys will now compete in the Regional finals on Wednesday the 18th of March with their opponents yet to be confirmed. Well done to all involved. Best of luck in the finals.
Interschools Music Festival
The Coláiste Muire choir took part in the Interschools Music Festival in Wesley College, Dublin on Friday March 6th.  Coláiste Muire choir participated in the David Wilson Cup competition for 3 Part Mixed Choirs.  Our choir were one of 9 in the competition and performed alongside choirs that have been very long established.  They performed an arrangement of The Skye Boat Song, a well known Scottish traditional song.  The choir have been practicing hard over a number of weeks, both after school and at lunchtimes.  Heartiest congratulations to all involved – the choir represented themselves and our school impeccably well and we are very proud of their achievement.  Many thanks to Mr. O'Connor and Ms. Heaney McGreal for their input in the preparations for last Friday!  You can watch their performance below….