Emmanuel 2020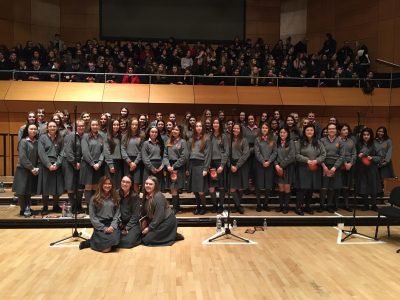 We are delighted that 60 TY & 5th year students took part in the Emmanuel 2020 Concert. Having spent the last number of months learning the liturgical music they enjoy their day of rehearsal and evening in the Helix. Well done to Scarlett Pinez who had a solo part. Thanks to their teachers, Ms Curtis & Ms Dooley for inspiring and working with the students.
International Women's Day(IWD) 2020

The students in Our Lady of Mercy College, Beaumont are an inspiration to us each and every day. We were delighted that with Ms Sheila Flynn and other teachers and students engaged in a number of activities to celebrate IWD and to showcase their own talents and aspirations. It was wonderful to have Ms Roisin Shorthall TD visit us on Friday, March 6th. She met with a number of students, took part in a debate on women in politics with TY Students and looked at student projects and work throughout the school. Roisin spoke to the students about the women who have inspired her and inspired the students to continue to be the best they can. Roisin is pictured with the Head Girl, Ellen Colligan & Deputy Head Girl Michaella Raagas, TY students as well as with some of the Student Council. Thank you to all for a lovely morning.