Top Marks!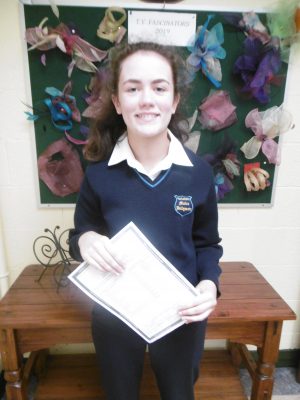 Congratulations Orla Dorrian on your top of the range Junior Cert results!  Well done!
Junior Cert Success
Congratulations to the Junior Cert class of 2019 on their excellent results on 4th October last.  Personal bests were achieved by all.  The excellent effort put in by students was very evident in the results – well done! A selection of students below receiving their results!
Athletics Success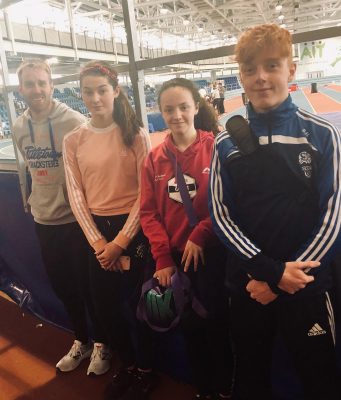 Congratulations to Elizabeth Tighe, Eimear Connolly and Shaun Hough on their recent success at the School's Athletics Competitions in Athlone I.T. Both girls took the top two places in the Transition Year 60m sprint – Elizabeth 1st and Eimear 2nd.  In addition, Elizabeth son the Transition Year 200m girls event and Sean won the 200m boys event.  Well done to all!  Our athletes are pictured below with Sligo based runner John Travers.
Juvenile Boys GAA Blitz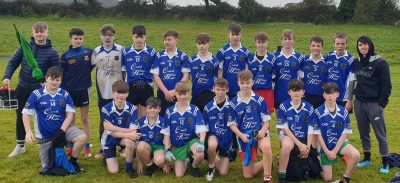 After a very windy and rainy morning and afternoon, Coáliste Muire are coming back with their heads held high! 2 games played. Won the first and the second was intense! Twice we were down by 5 points but our boys kept their heads, tracked back, left everything on the pitch and we ended it with a draw 17 a piece.  Zero losses for Mr. Brennan so far this year!
Under-16 Boys Basketball
U16 Boys Basketball has gotten off to a flying start in Coláiste Muire. The boys played Grange in their first game of the Post primary schools basketball Ireland league on Tuesday 2nd of October. It was an extremely close game with Coláiste Muire coming out on top by 1 point in the end to take the win. Ms. O'Malley was extremely proud of the team and said it was a real team effort from all. Best of luck to the boys who take on Maigh Ene, Bundoran in the next round.
Under-14 & Under-16 Girls GAA
U14 girls GAA and U16 girls GAA took on a very good side from Davitt College, Castlebar during their first few weeks back at school. The girls are once again off to their winning ways taking the win over both teams. The girls played very well and are training hard for the season ahead in the hope of retaining their winning titles from last season.
U-14 Nations Cup Success
Congratulations to John Kirrane (2nd year) on his recent successes at the Nations Cup in Belgium.  John joined the Under-14 Irish team in this event held in Sentower Park, Belgium and achieved 2nd place, taking home silver.  Well done John!